Time Portal Mobile version 2.14
New
Items to upload indicator
The Main Page now includes a badge that indicates whether all locally collected data has been uploaded. As illustrated, the badge is Green when all data has been uploaded. Otherwise, the indicator is shown in yellow along with a number representing the count of items to upload.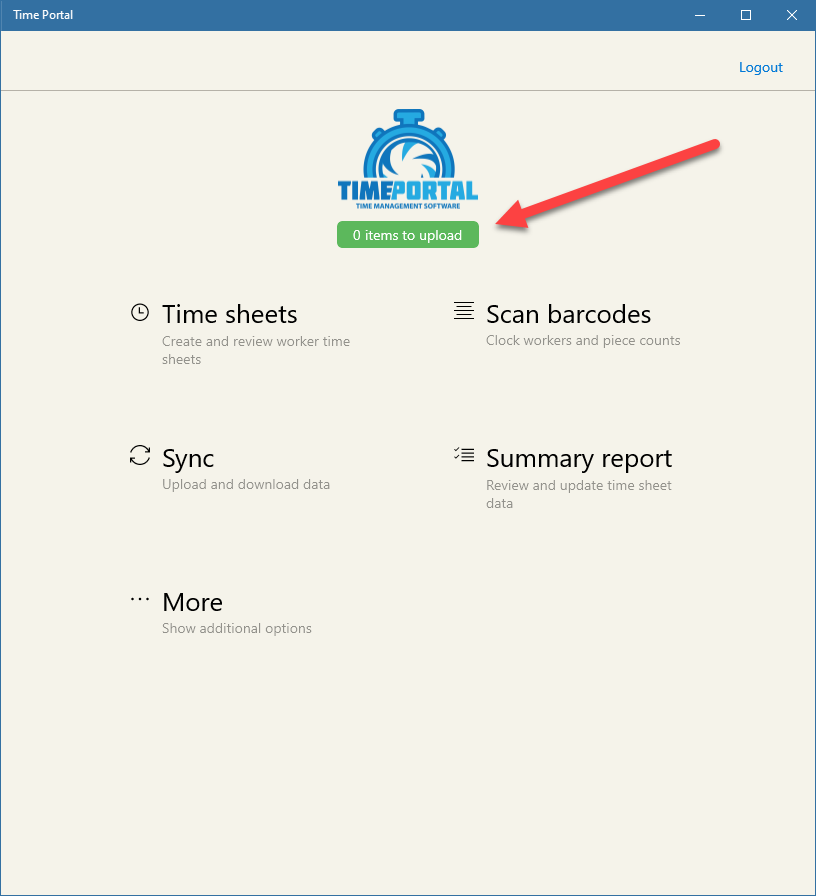 Scale Max Weight
The Settings screen now includes an option for specifying the maximum weight which is allowed when scanning weights. When a value is specified, Time Portal will display an error message if the weight is greater that the specified value. Leave the value at zero to disable the feature.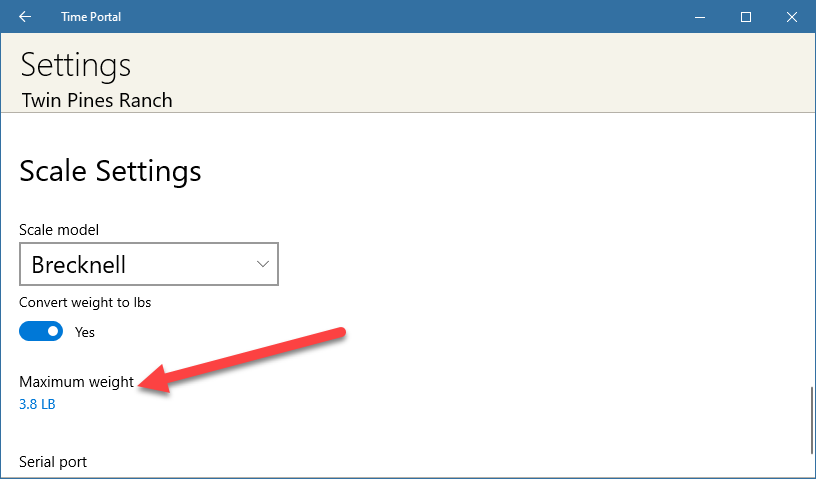 Scale Weight Scan Frequency
Scan Settings now include an option to limit the weight scan frequency per worker. When enabled, Time Portal will ensure that the same barcode is not used to scan weight within the number of seconds specified.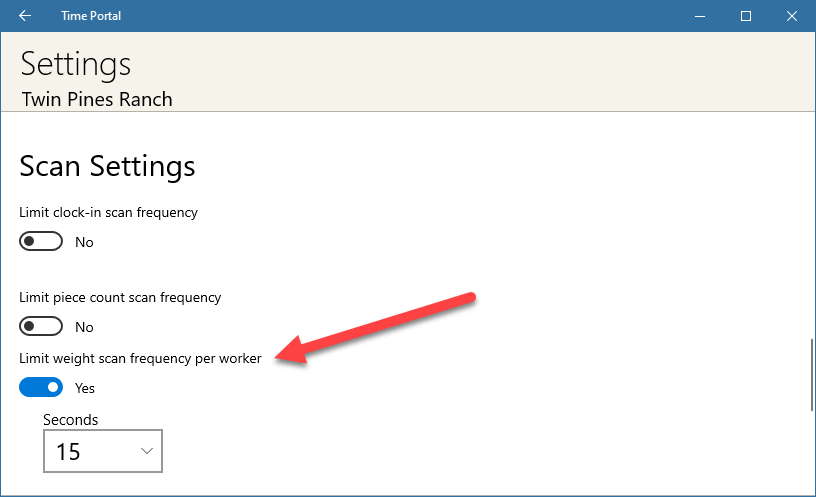 Scale Container Count
When adding weights in the Scan Barcodes screen, new options may be set to handle the weighing of multiple containers as well as for specifying the empty (tare) weight of each container.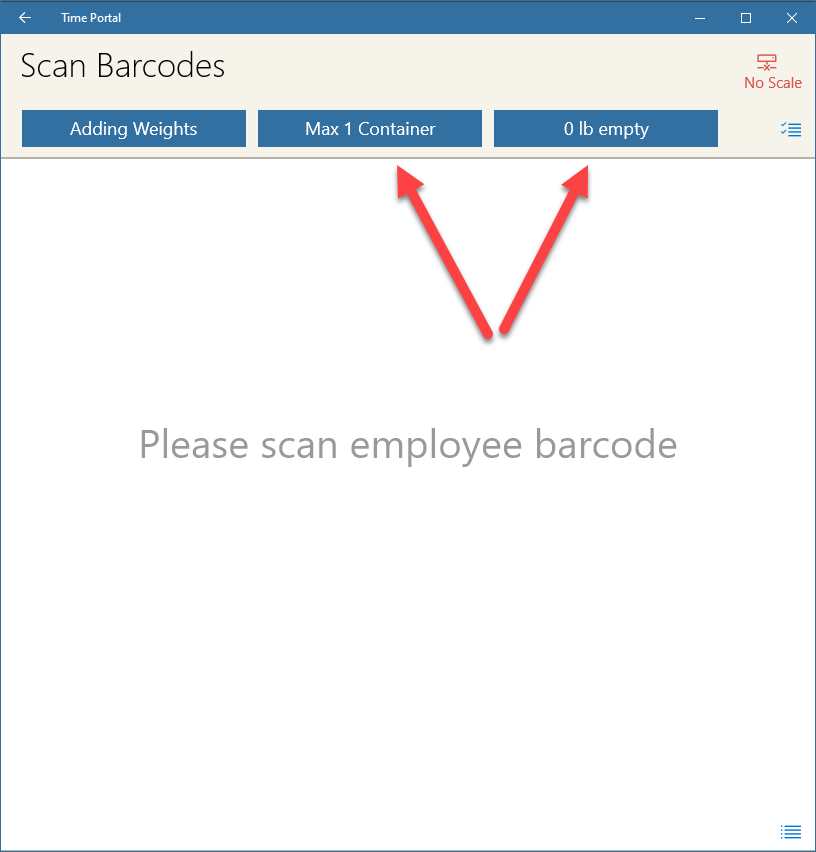 When a "Max Container Count" greater than one as well as an empty container weight greater than zero is selected, Time Portal will present a set of choices whenever a weight is scanned. This allows for placing a variable number of buckets (containers) onto the scale.
As illustrated (in Spanish), the gross weight is 3.10 LB, the empty container weight is 0.5 LB and the user has indicated that up to 4 containers may be weighed at one time. The user can tap on the row corresponding to the number of containers that were placed onto the scale and Time Portal will record the corresponding net weight for the employee.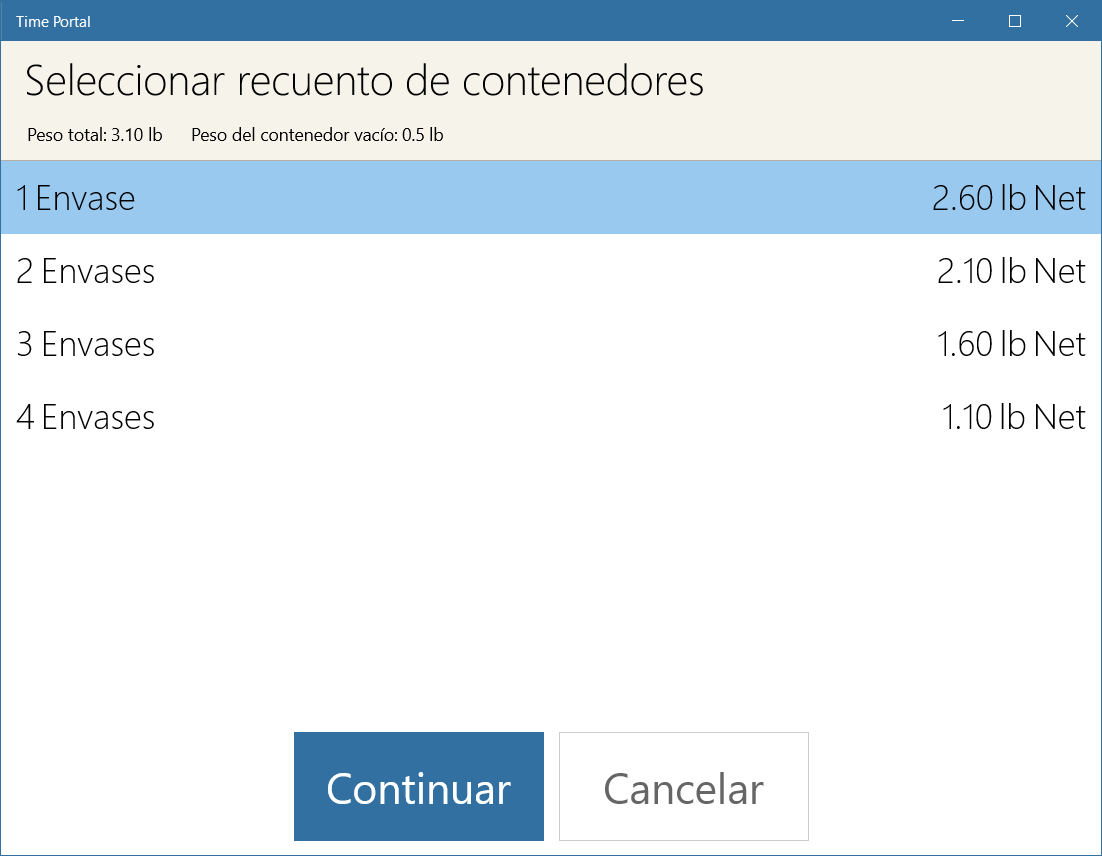 Delete Scans
The Scan History Screen (available when you tap the square icon at the bottom right hand corner of the Scan Screen) now includes options to delete piece and weight scans for Time Sheet Records that have not been Uploaded. Tap the delete button to display a confirmation dialog and then tap "yes" to delete the scan. The piece count of the associated Time Sheet Record will be reduced by the piece count of the scan.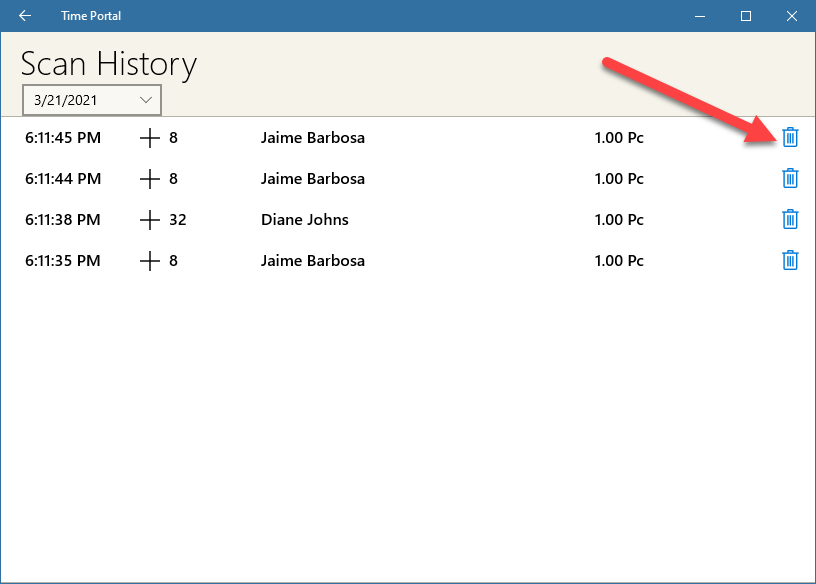 Punch Mode
Time Portal normally requires that worker activity (clock-ins, piece counts, clock-outs) is recorded on a single device. This allows employees to review and approve their daily hours and piece counts on an offline device.
In certain types of harvest work, it may be necessary to clock in on once device, collect pieces on other devices and clock out on yet another device, all without connection to the Internet. Data collected from each device is eventually uploaded to the Time Portal web site and combined into Time Sheets for review. Employees may review and approve their work using reports produced by the web application.
Punch Mode has been developed for crews performing this type of work and to enable this new functionality, you simply need to enable "Punch Mode" for all the devices used by that crew. Other crews can continue to use Time Portal in the traditional way that enables review and daily approvals using a single device.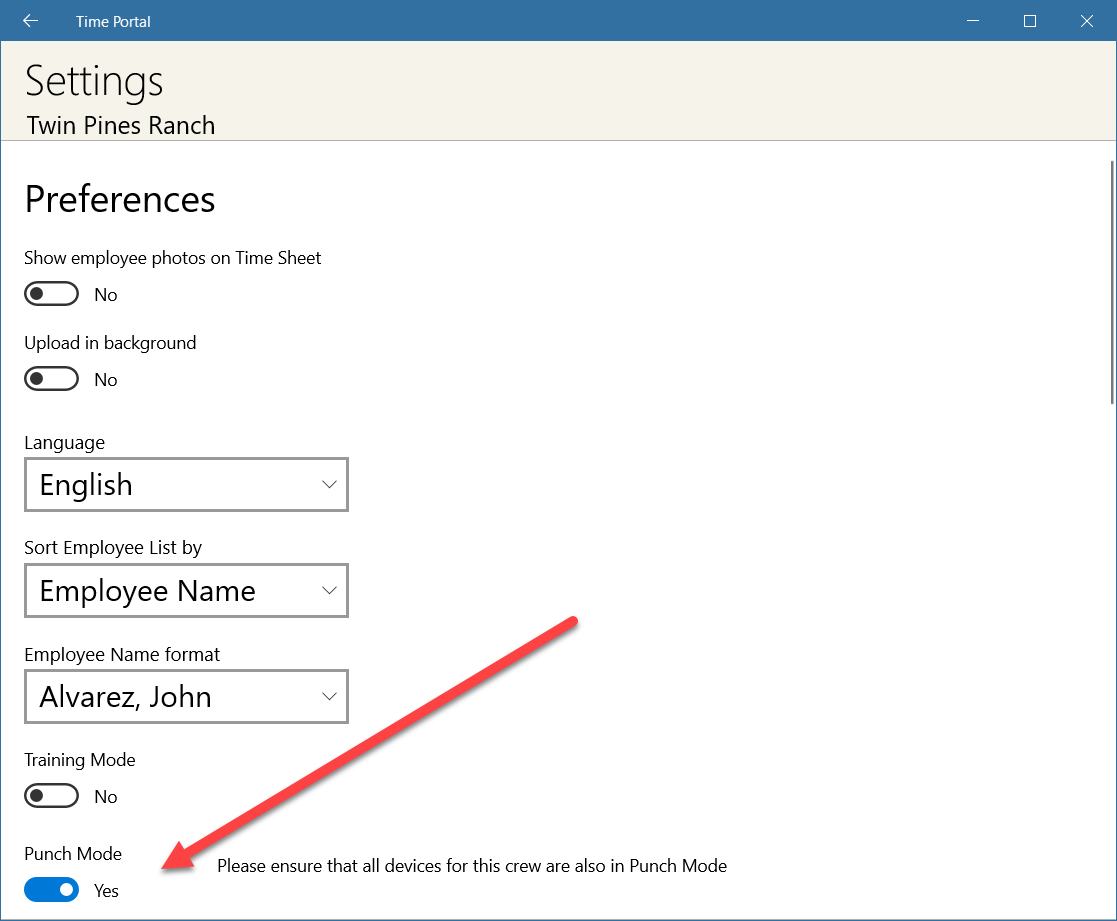 As illustrated below, the Main Screen will provide an indication when a device is in Punch Mode and the Items To Upload Indicator will let Crew Leaders know whether their information has been uploaded.
When a device is in Punch Mode, notice that the option for Time Sheets is not available since Time Sheets are not actually created on the device but instead will be created in the Web Application based on collected information.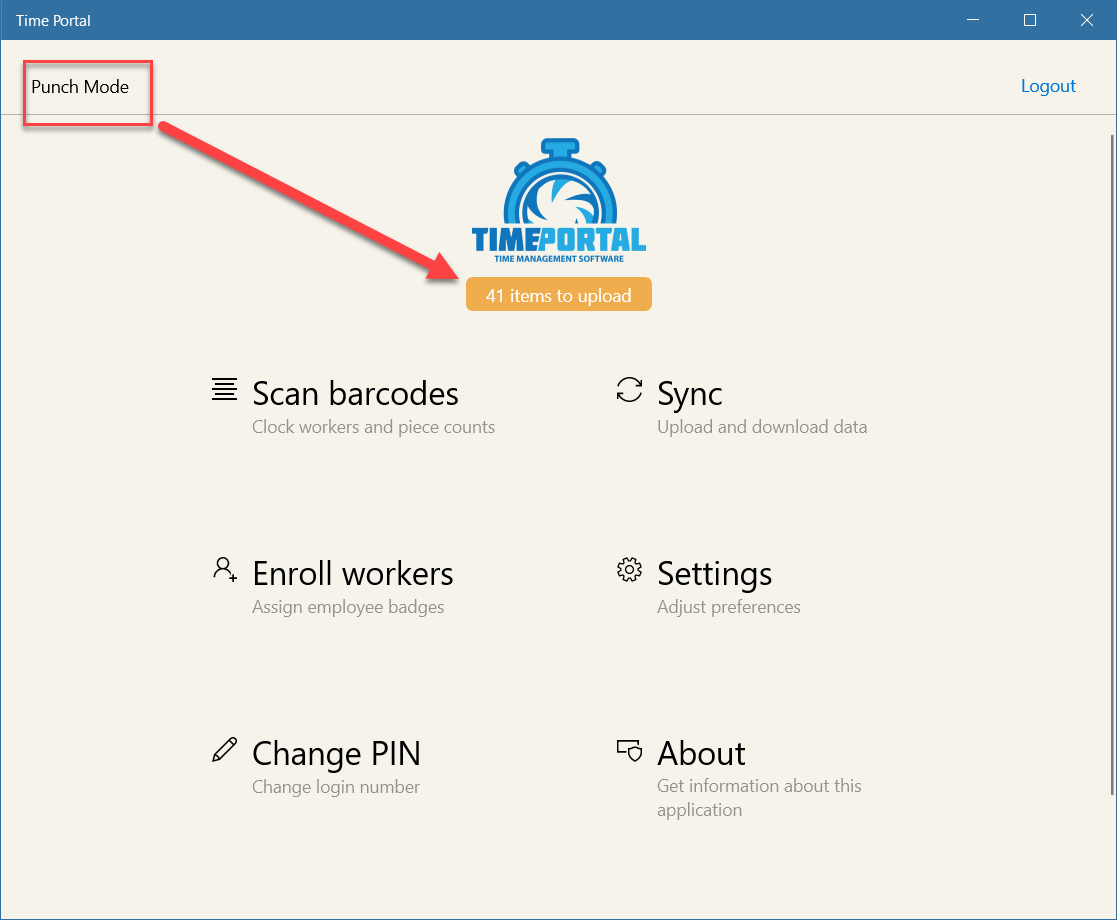 While the Scan Barcodes Clock-in mode requires a Job (and possibly a location and crop/variety) to clock-in workers, these values are optional when in Punch Mode since they can be assigned on the web site.
Also, in Punch Mode, piece counts and weights can be collected for employees who have not clocked in on the device. It is recommended but not required that the employee is clocked in and out (on some device) before and after pieces and weights are collected.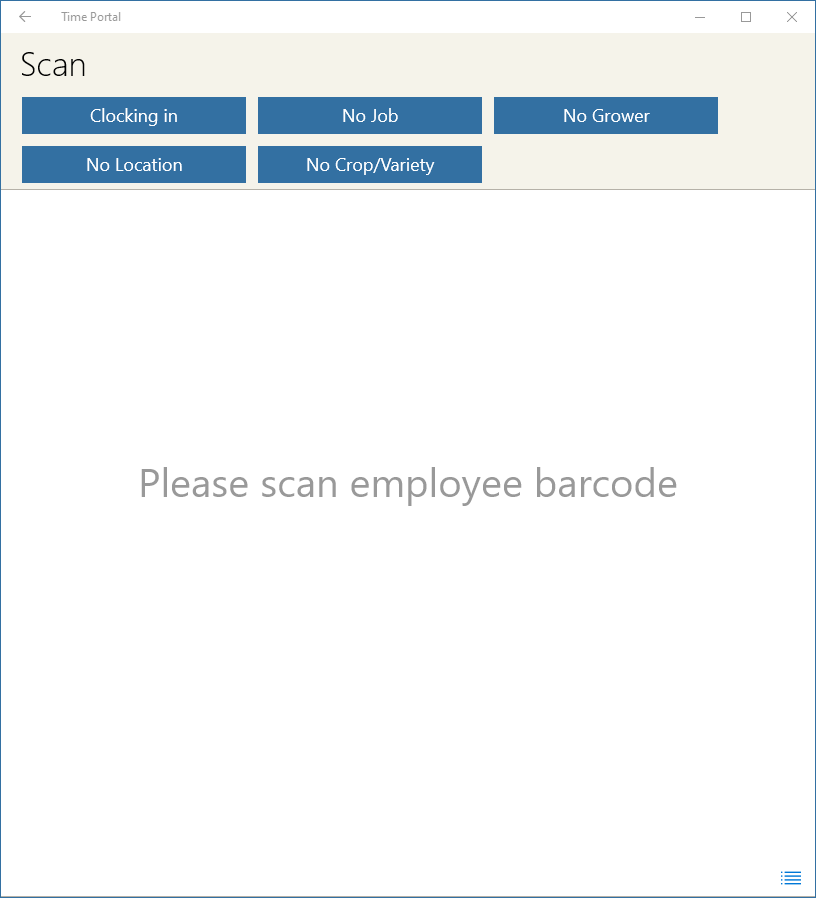 Please refer to the "What's new" section of the Time Portal Web application to see how punch data is merged into Time Sheets.
Improved
Transfer employees Filter
The Transfer Employees Screen was previously updated to allow for locating employees from any crew but had removed the "From" Crew filter. In this release, we've restored the From Crew filter along with an option for "Any Crew". This allows you to easily find employees across all crews or that are on a particular crew.