Time Portal Mobile version 2.13
New
Grower option on Scan Barcodes Clock-in mode
When Clock-in mode on the Scan Barcodes screen has been selected, a new "Grower" button is available to specify a grower that should be associated with the work being performed. This is not a required selection but if you do select a Grower, the locations list can be filtered to show only locations for that grower.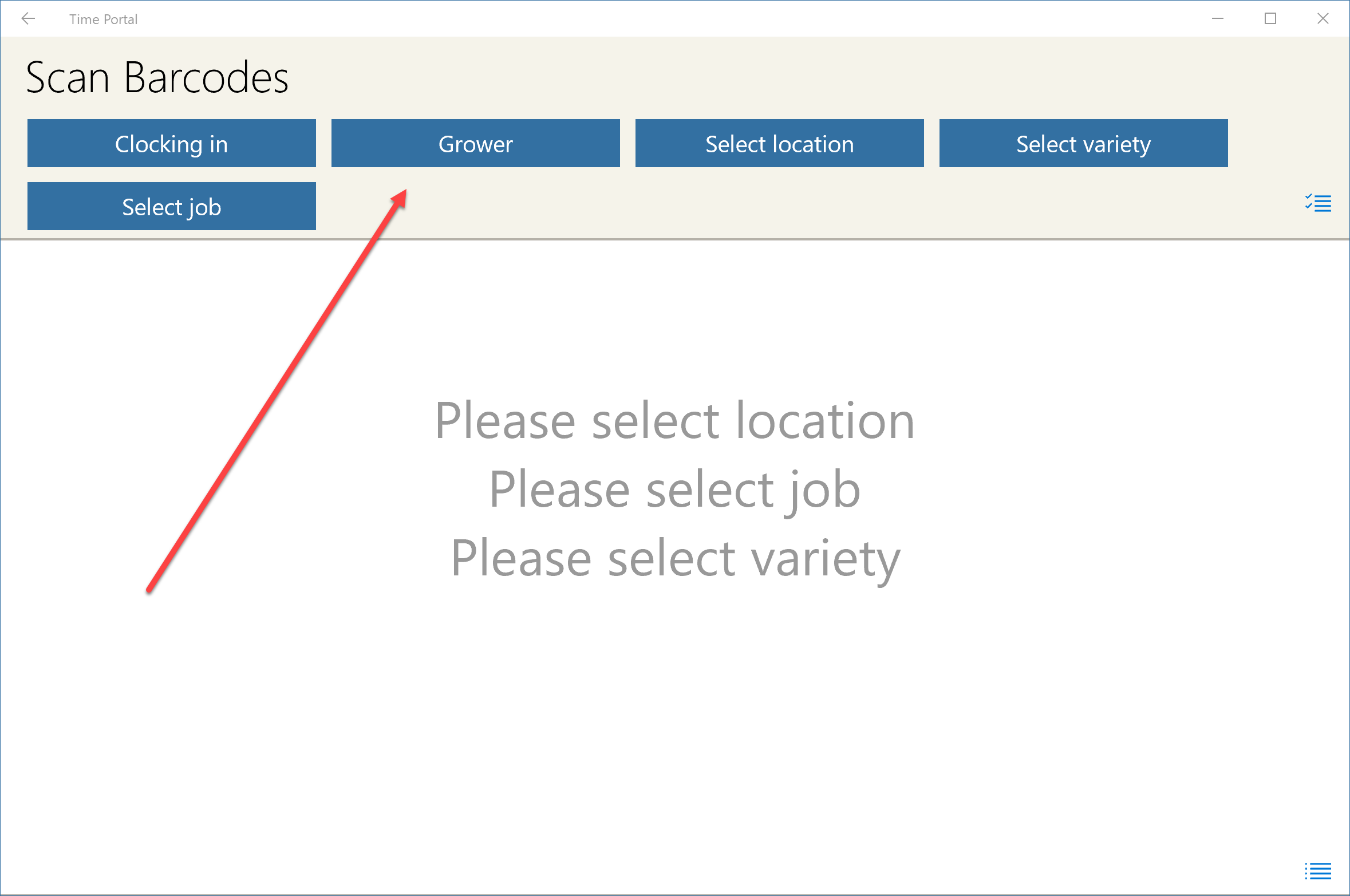 Support for new Scales
Time Portal now works with certain Avery and TBWS scales, in addition to the Brecknell scales which have always been supported. The Scale settings near the bottom of the Settings screen now provides a drop-down list of scales to choose from.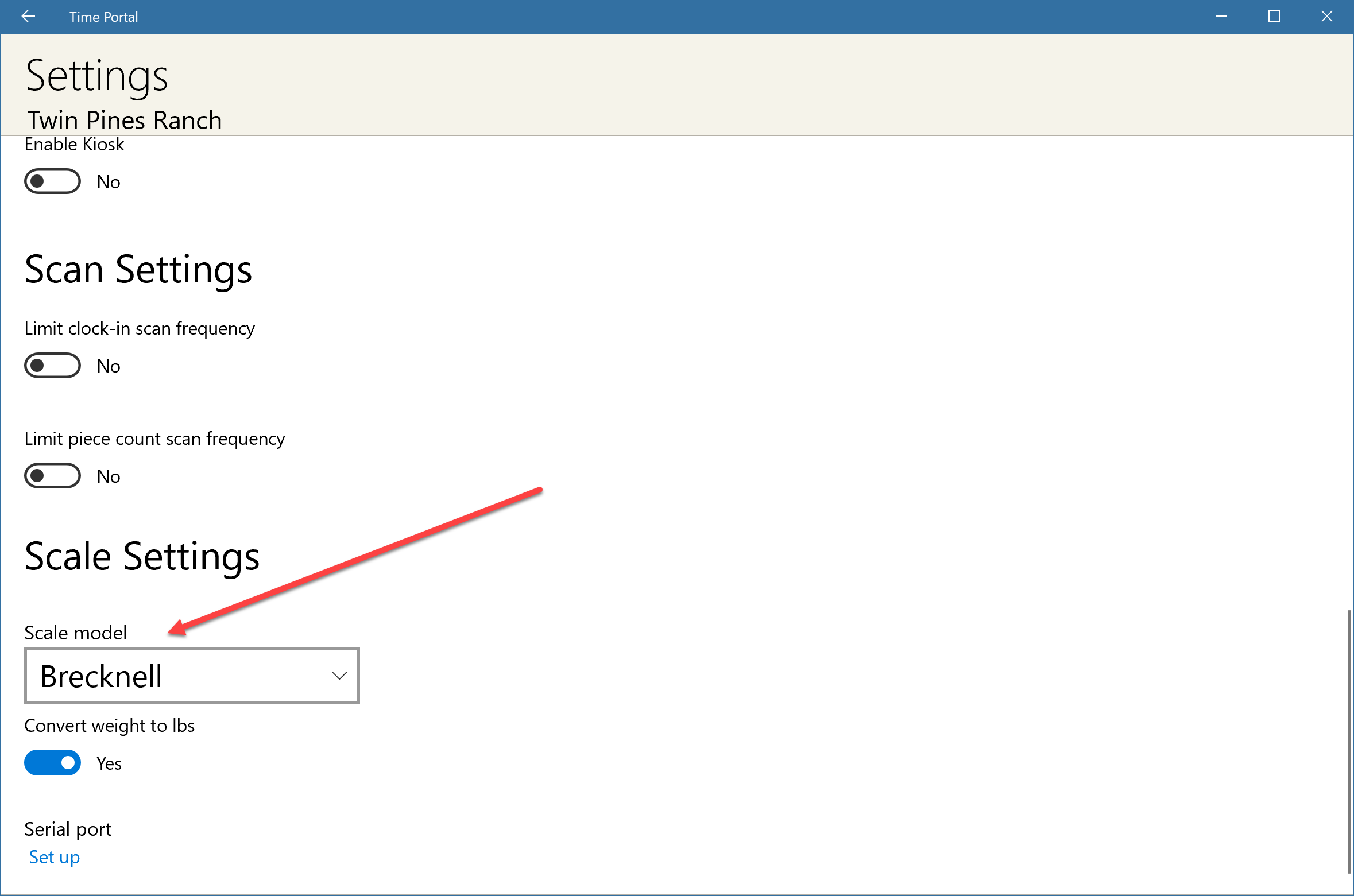 In the Weights mode of the Scan Barcodes screen, you can now see the brand of scale which has been selected.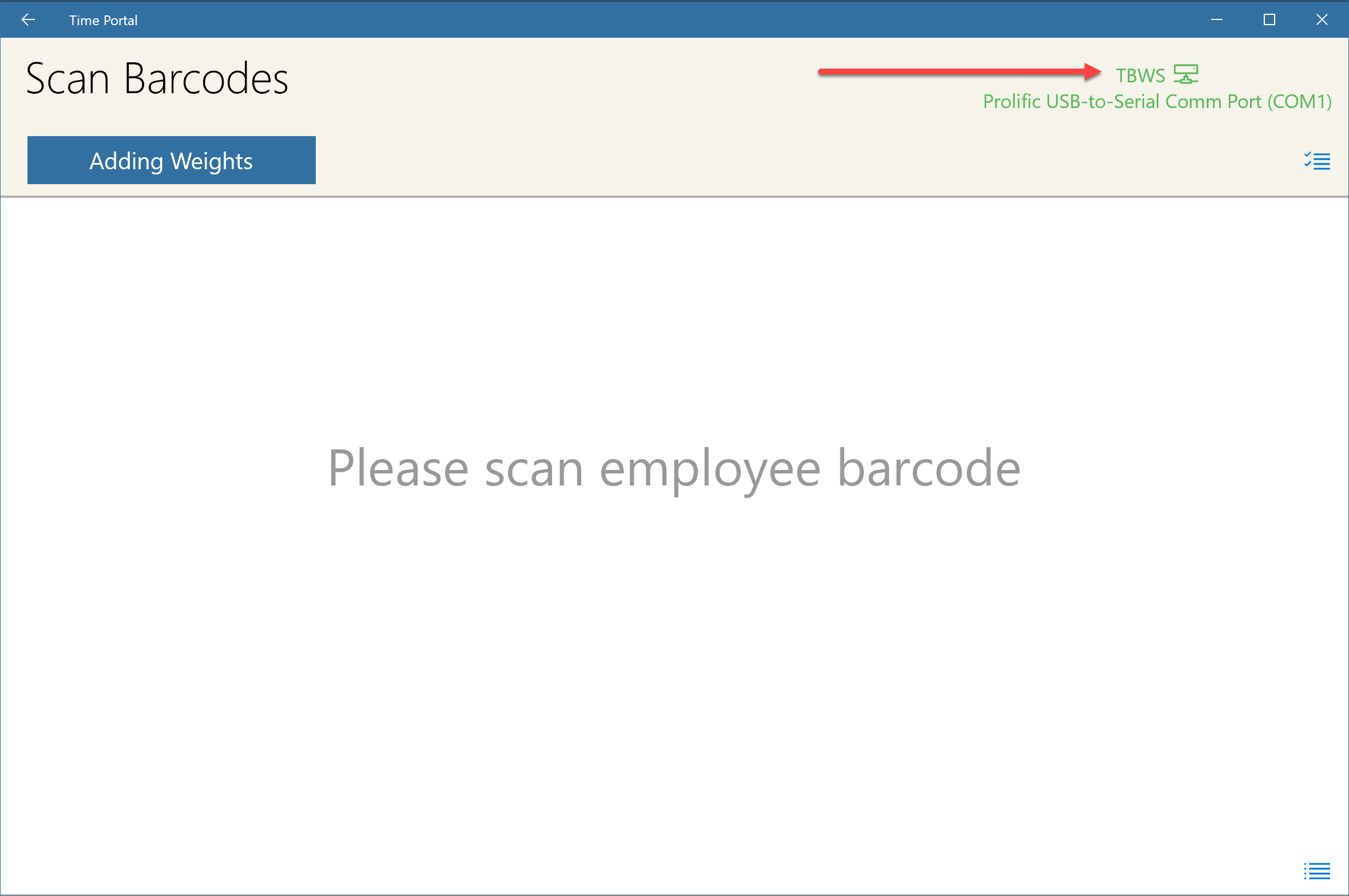 Important: If your scale is not compatible with the selected scale, Time Portal may show incorrect information or may appear to "hang" with a message such as "Getting Weight" as it waits for a response from the scale. If this occurs, please go to the Settings Screen and ensure that you've selected the correct scale.
Employee Photos
Tapping the circular image of a person silhouette on Enroll workers page will now pop up a window that allows you to take a photo of the selected employee.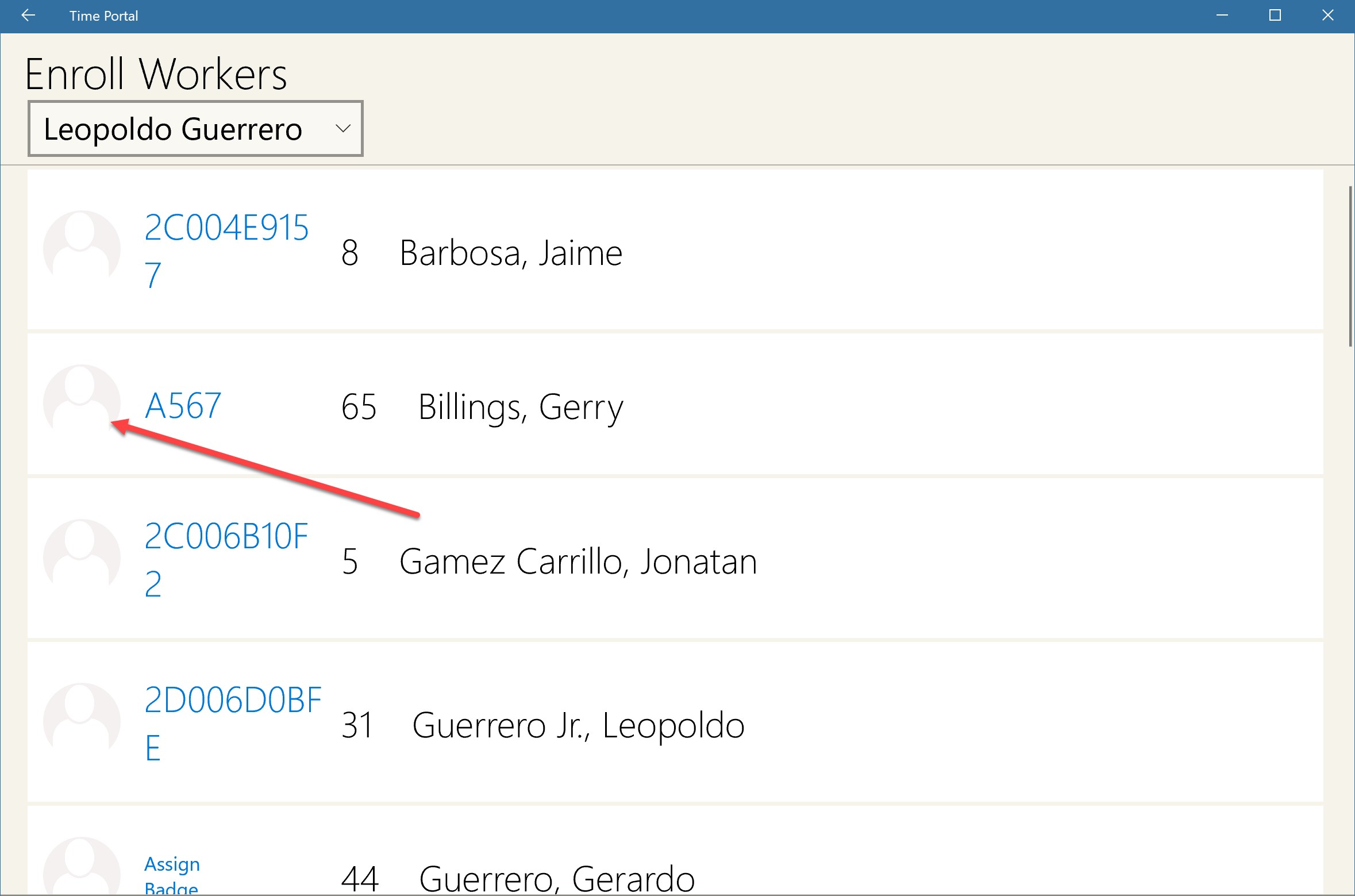 Here's the pop-up window.
And here's the second window for cropping the portion of the employee photo you wish to keep.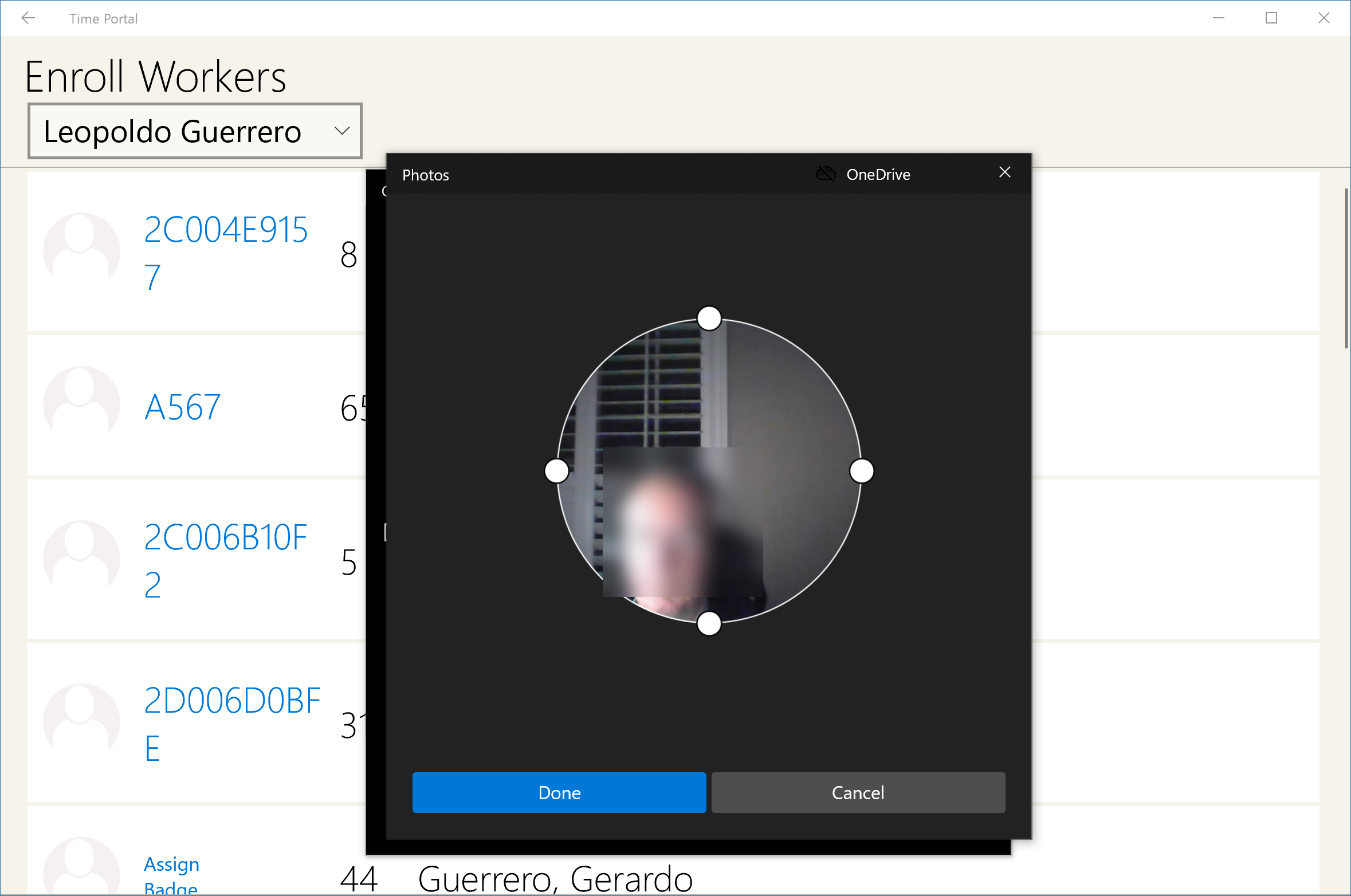 After the picture is cropped and saved, it will appear next to the employee and will also be uploaded to the web application once the device is synchronized. The picture will be downloaded to other mobile devices after they have been synchronized as well.
Important: Be sure to give permission for taking photos if prompted by Windows. If you answer "No" to the question, you can go into Windows and select Start->Settings->Privacy->Camera to manage camera permissions.
Background Synchronization
The settings screen now includes an option called "Upload in background" for enabling automatic updates in the background. With this setting enabled, Time Portal will try, every 5-minutes, to synchronize if an Internet connection is available. If you are working in an area with limited Internet connectivity, consider leaving this setting off and just using the Sync feature once you know the Internet is available.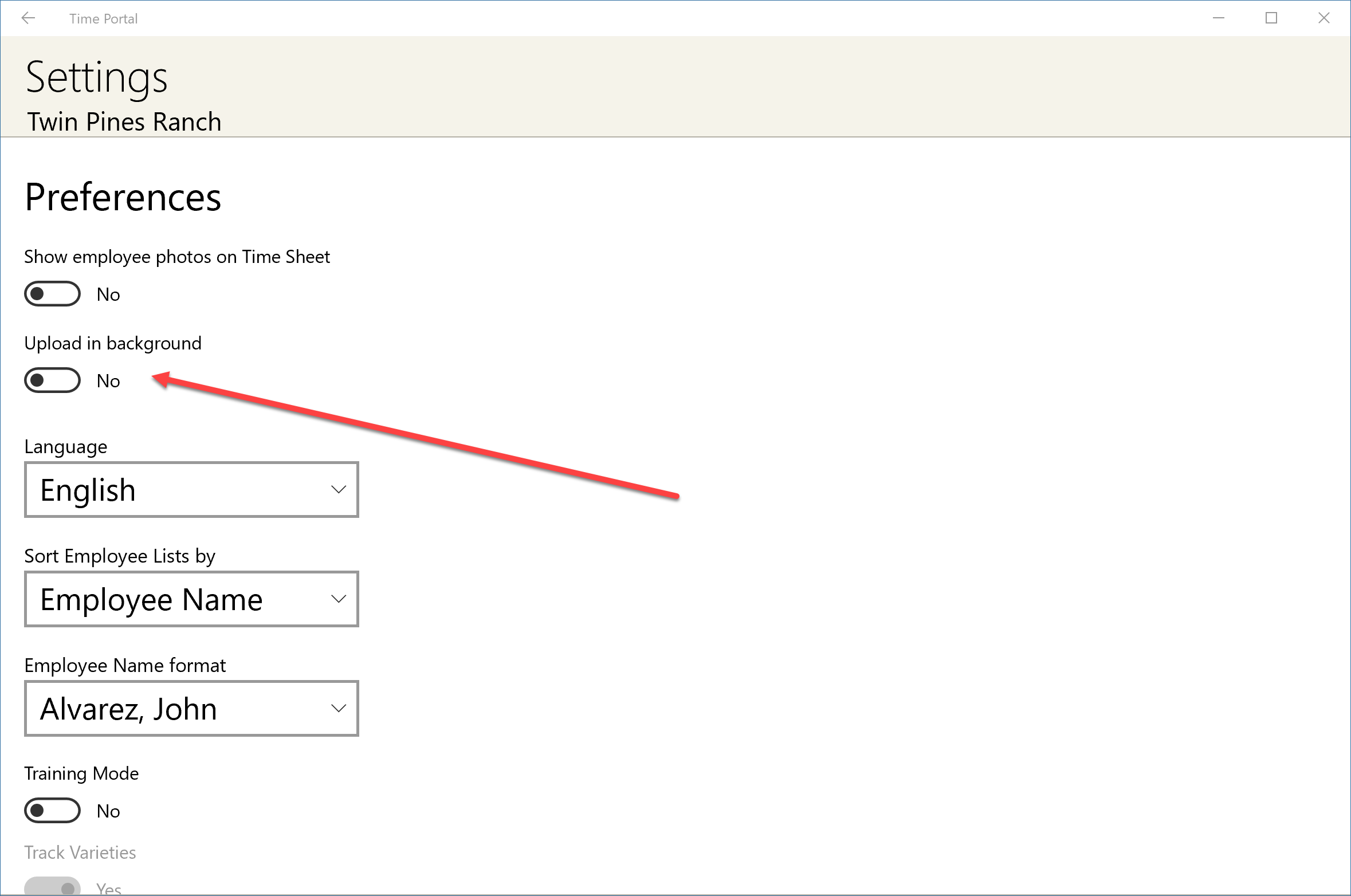 Piece Collection on multiple devices
One of the challenges of working offline is the collection of combined information on different devices. In order to provide a complete view of each employee's hours worked and pieces collected in an offline environment, it has always been a requirement that clock-ins and piece collection were performed on the same device.
This release includes new advanced capabilities which we are releasing as "experimental" and just for customers who are willing to work with it as such. Once enabled, each device will have a new Piece Collection Settings option on the Settings Screen as illustrated.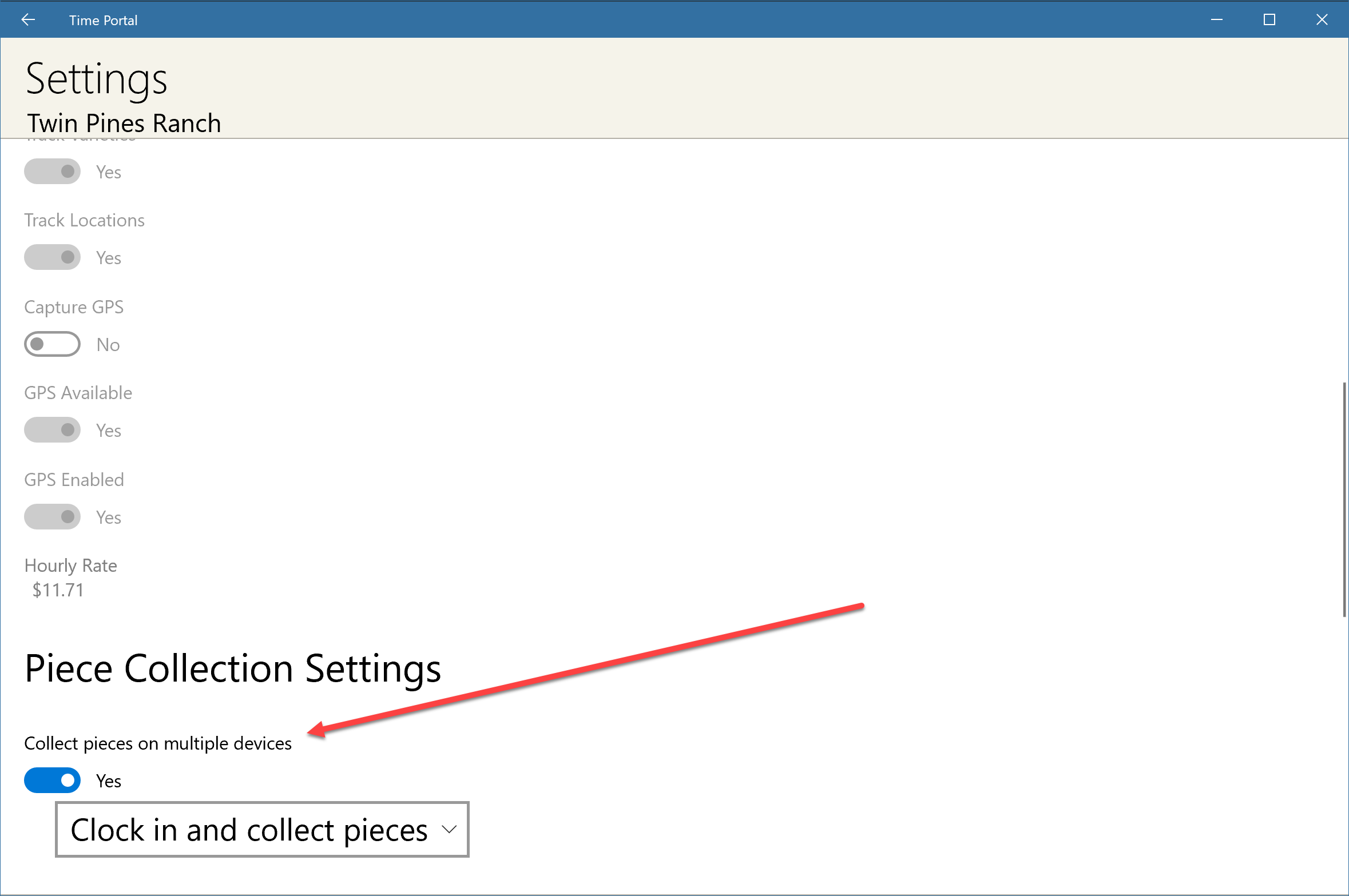 Each participating device should enable this option and select whether the device will be used to "clock in and collect pieces" or "collect pieces only". It is important that only one device is placed into the role of clocking in while numerous other devices can be used to collect piece counts only.
The device that is in the "clock-in and collect pieces" role will include the usual options for creating, viewing and uploading time sheets. It is important that all workers are clocked into piece jobs on this device before collecting piece counts on any other device. Also, please ensure that piece counts are not collected on any other device once workers have clocked out of the job on this device. Time Portal uses the clock-in/clock-out times to match piece counts with time sheet records.
Devices that are in the "collect pieces only" role will have limited options on the Main Page and Scan Barcodes Screen. In particular, these devices will not have options for clocking in or viewing time sheets. Piece counts may be collected on these devices for employees who have clocked into a piece job on the "clock-in device".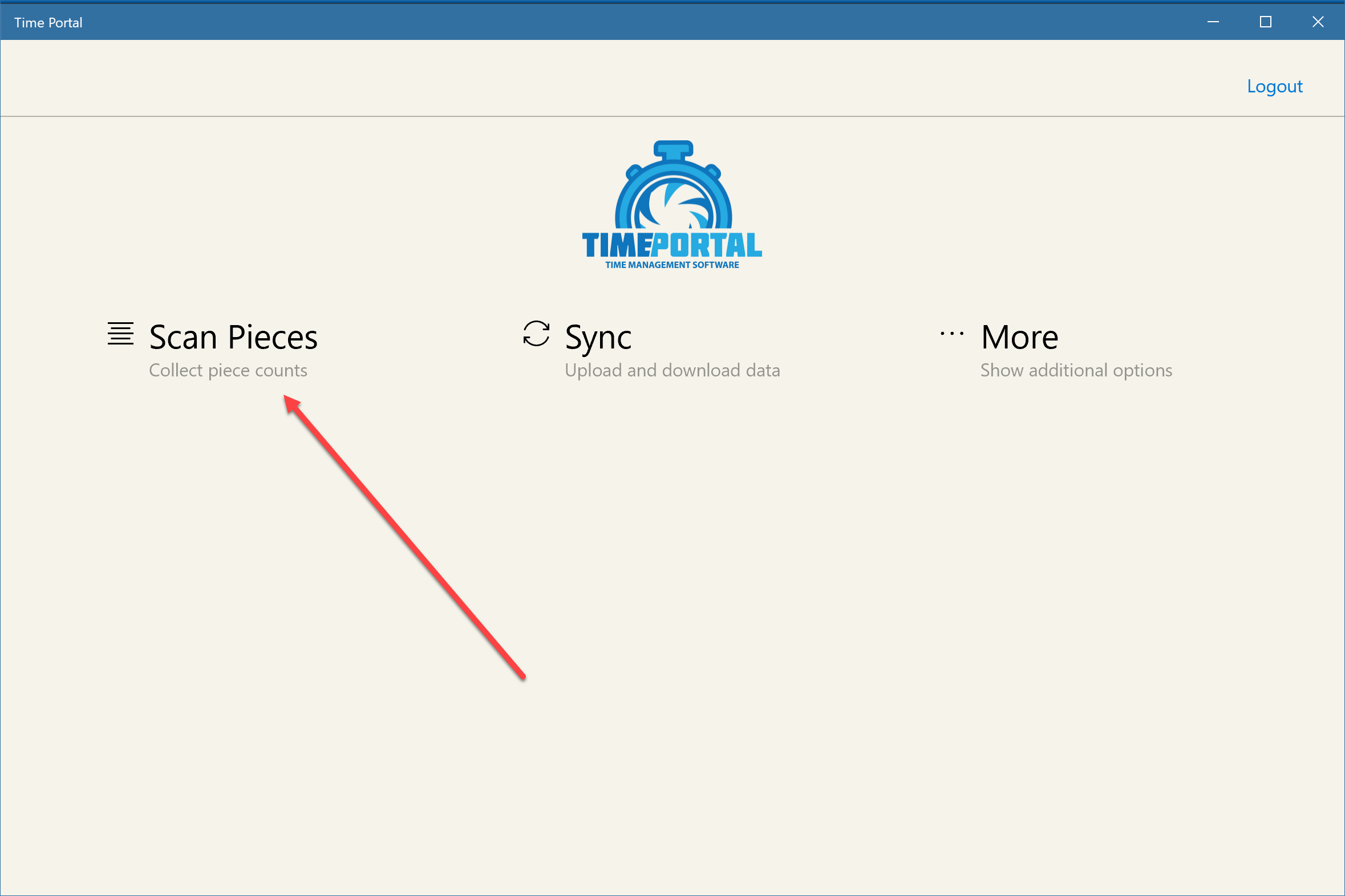 Piece count information may be uploaded to the Time Portal web site whenever the Sync button is tapped or a background upload is performed (if Internet connectivity is available.) Time Portal will add piece counts into the appropriate timesheet once it has been uploaded from the "clock-in device".
To summarize the solution, workers would all clock-in using a device in the "Clock in and Collect Pieces" role. They would use various other devices in the "Collect Pieces Only" role to record pieces throughout the day. When all piece collection is completed, they would clock out of the device on which they originally clocked in. Once all devices have been Synchronized, Time Portal will match up data which can be printed onto reports daily or at the end of the week for employee review and signature.
Improved
Easier to add employees
The Add Employees Screen, which is used to add employees to a time sheet, now presents all available employees in a single list that includes the ability to filter by employee name. It was previously necessary to select a crew to pick from the crew's employee list.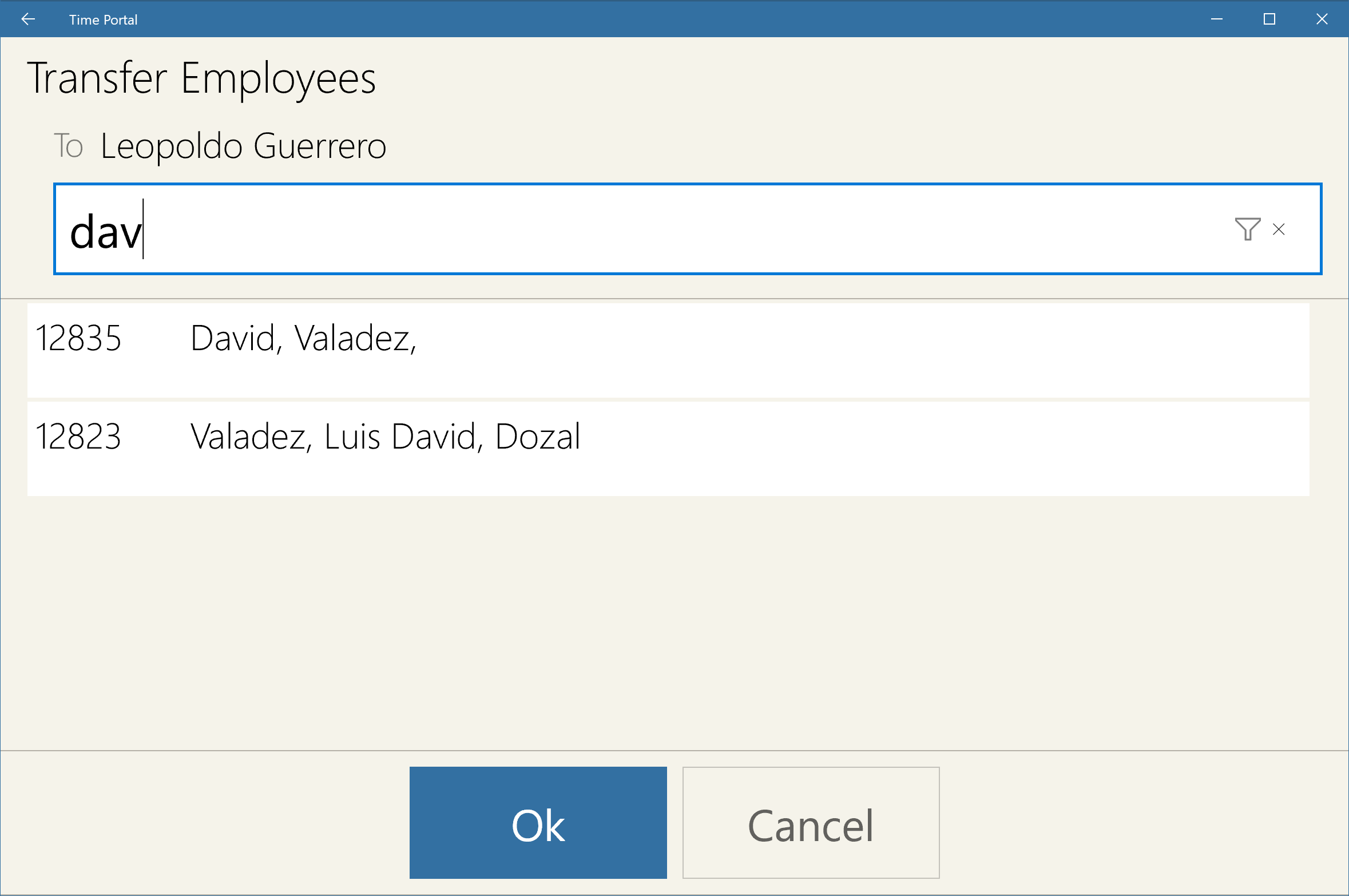 As before, a transferred (added) employee is added to the time sheet on a temporary basis and will be placed on his original crew's time sheet the next time it is created.
Automatic creation of new time sheet in Scan Barcodes Clock-in mode
In previous versions, Time Portal would clock workers into an open time sheet for the employee's crew, even if the time sheet was from a previous day. Now, Time Portal will check if the time sheet is from a previous day and if so, will prompt for the creation of a new time sheet for clocking in the worker.