New:
1. Punch Data Reports
For Punch Mode Time Sheets, the Print button now includes options to produce a PDF or Excel report with the raw punch data that was collected into the time sheet.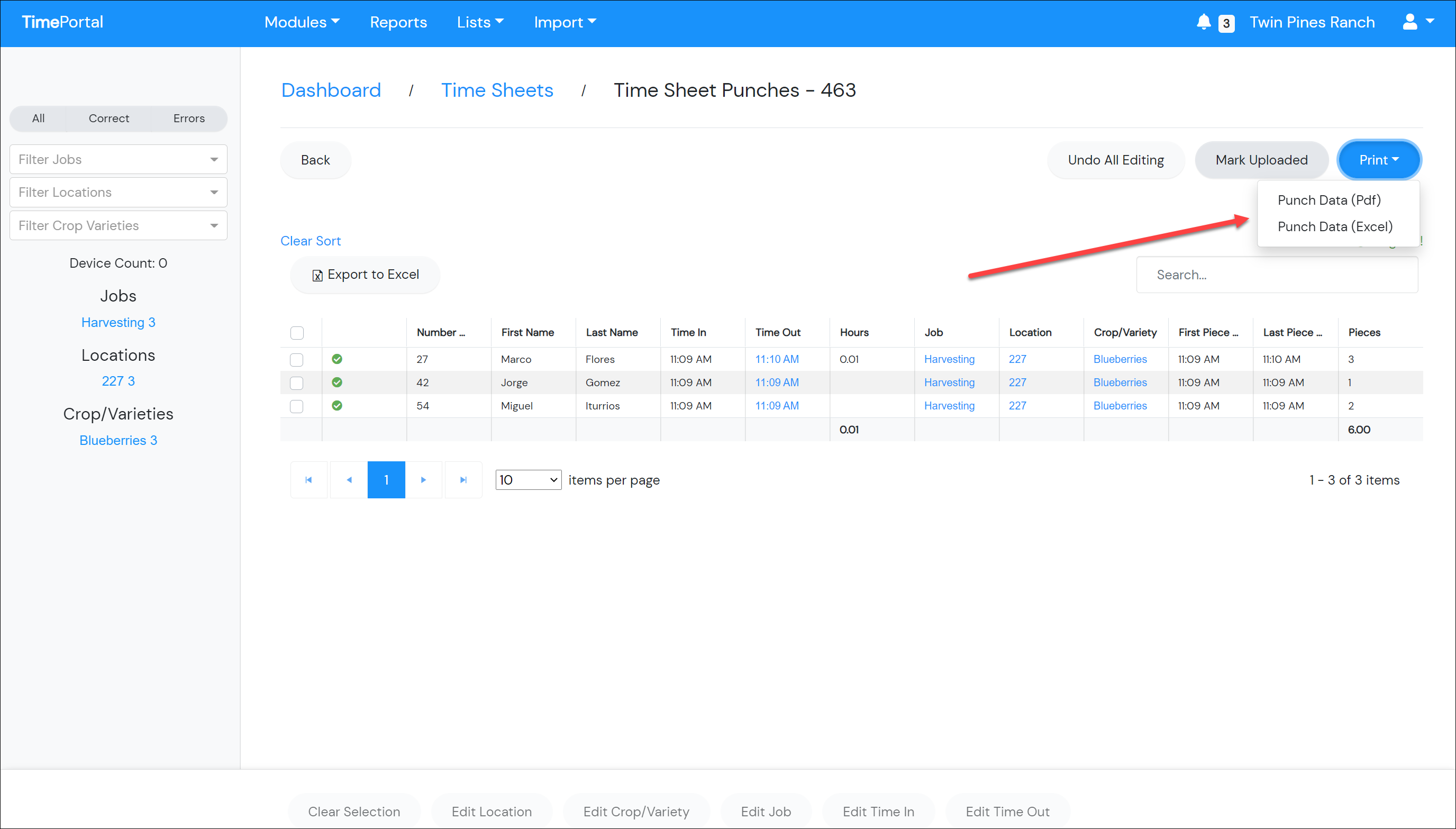 As shown below, the Punch Data is sorted by employee number and time which provides visibility into the punch activity across multiple devices.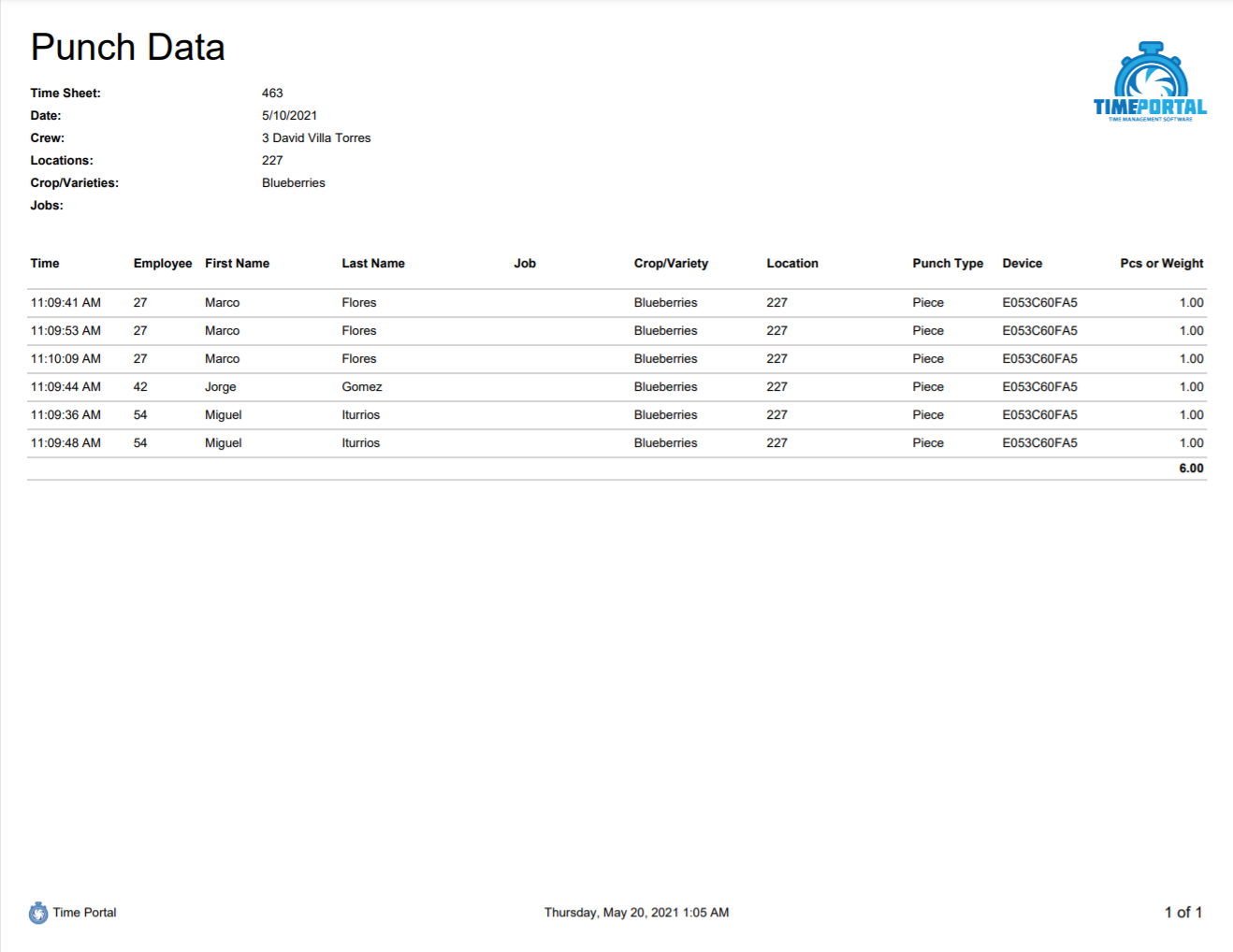 Improvements:
1. Hours Offered Records are Now Auto Generated.
Hours Offered records are now generated whenever a time sheet is approved. Previously, it was necessary to load the Hours Offered Screen and update/save default values in order to create Hours Offered records which include information about the number of hours offered versus the actual hours worked as well as the reason codes explaining why employee hours did not meet worker contract obligations.
Time Portal now uses settings on the My Company Page to calculate default hours offered values when creating Hours Offered records.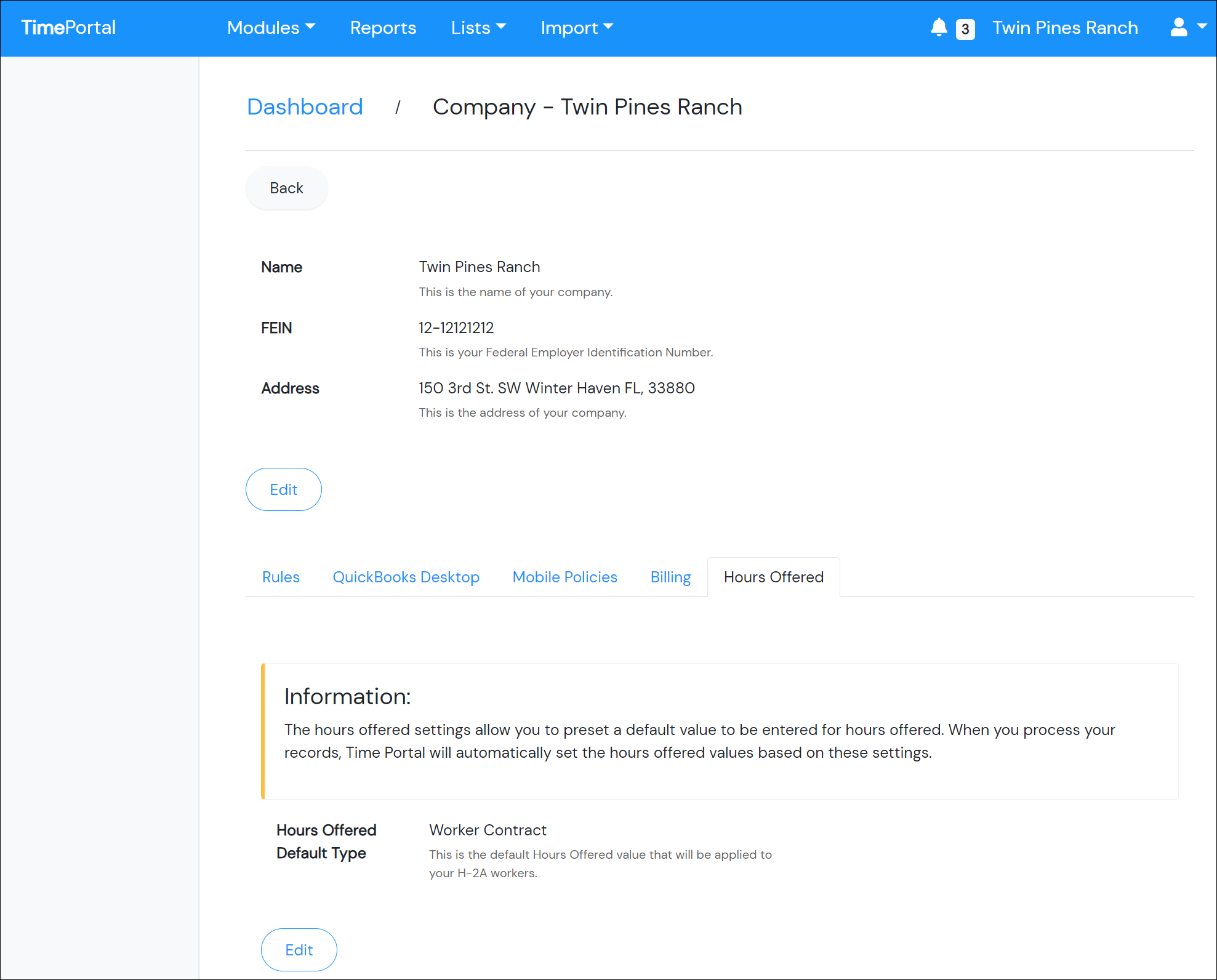 As illustrated above, default value types now include "Worker Contract" which defaults the worker contract hours for the particular work day (Mon, Tue, Wed, etc.) Other defaults include actual hours worked, average hours for the crew or a specific hard-coded value.
2. Hours Offered Screen Faster and Easier to Use.
Although Hours Offered records are now auto-generated, it is still necessary to use the Hours Offered Screen to provide reason codes for employees that do not work sufficient hours. As shown below, the Hours Offered Screen now includes additional columns such as "Is Refused", "Applicable Hours" and "Refused Hours" to highlight the effect of applied reason codes. Previously, it was necessary to be familiar with reason codes and whether they represented refused or unavailable work.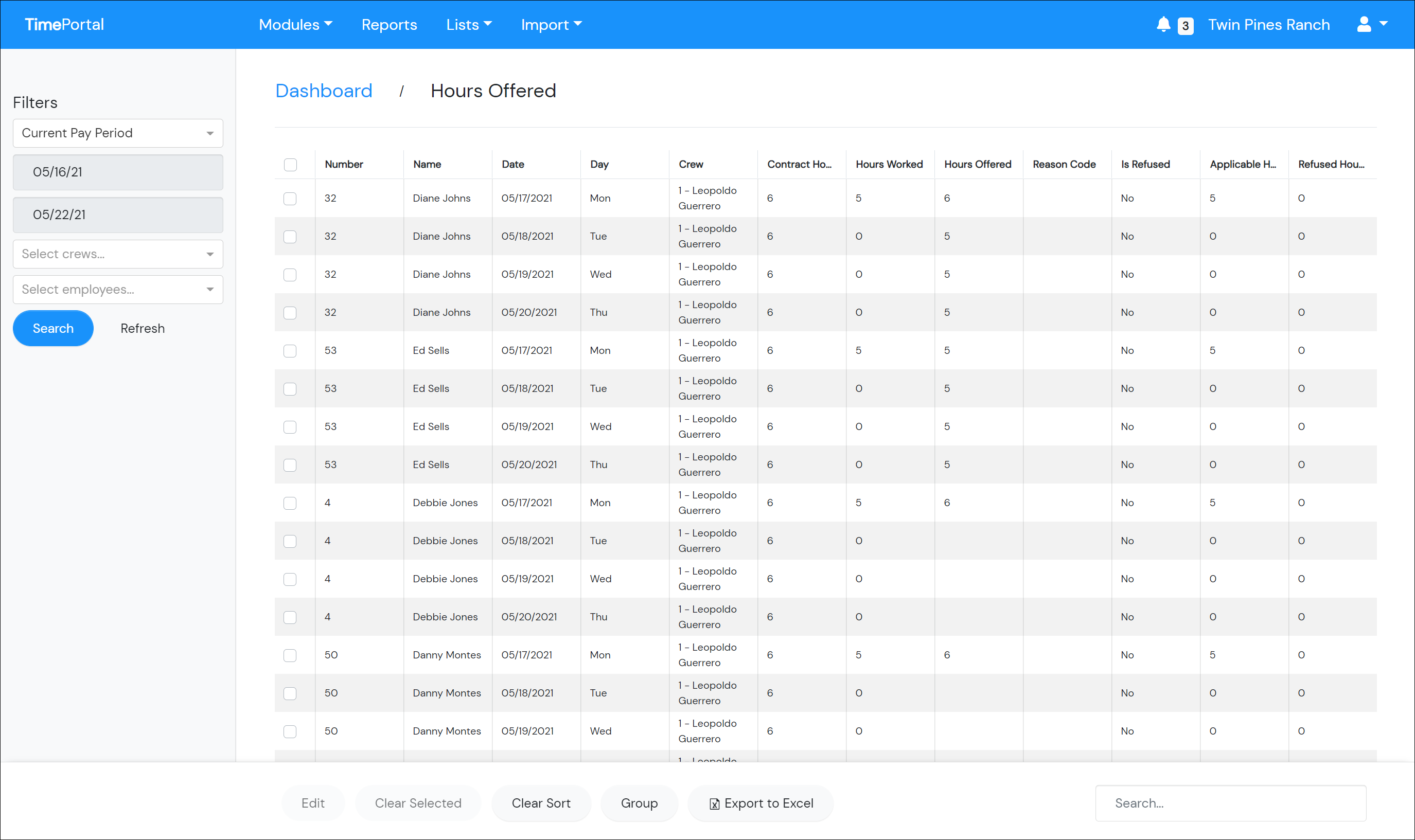 Previously, it was possible to edit reason codes and hours offered values directly in the list, however this was impractical for bulk changes and caused the program to load slowly. Bulk editing can now be accomplished by simply selecting one or more rows with the check boxes (or by holding Shift while clicking the first and last row) then clicking the Edit button. As illustrated below, a pop up window will allow for selecting a reason code and/or hours offered value that will be applied to all selected records. When the pop-up screen is dismissed, the list is updated with the changes but does not lose it's sort order or position on the page.
While Time Portal previously included an option to apply a specific hours offered value to the selected records, this update now allows for bulk updating hours offered values based on the employee's hours worked, average hours worked for the crew, worker contract hours for the day, or a specified value.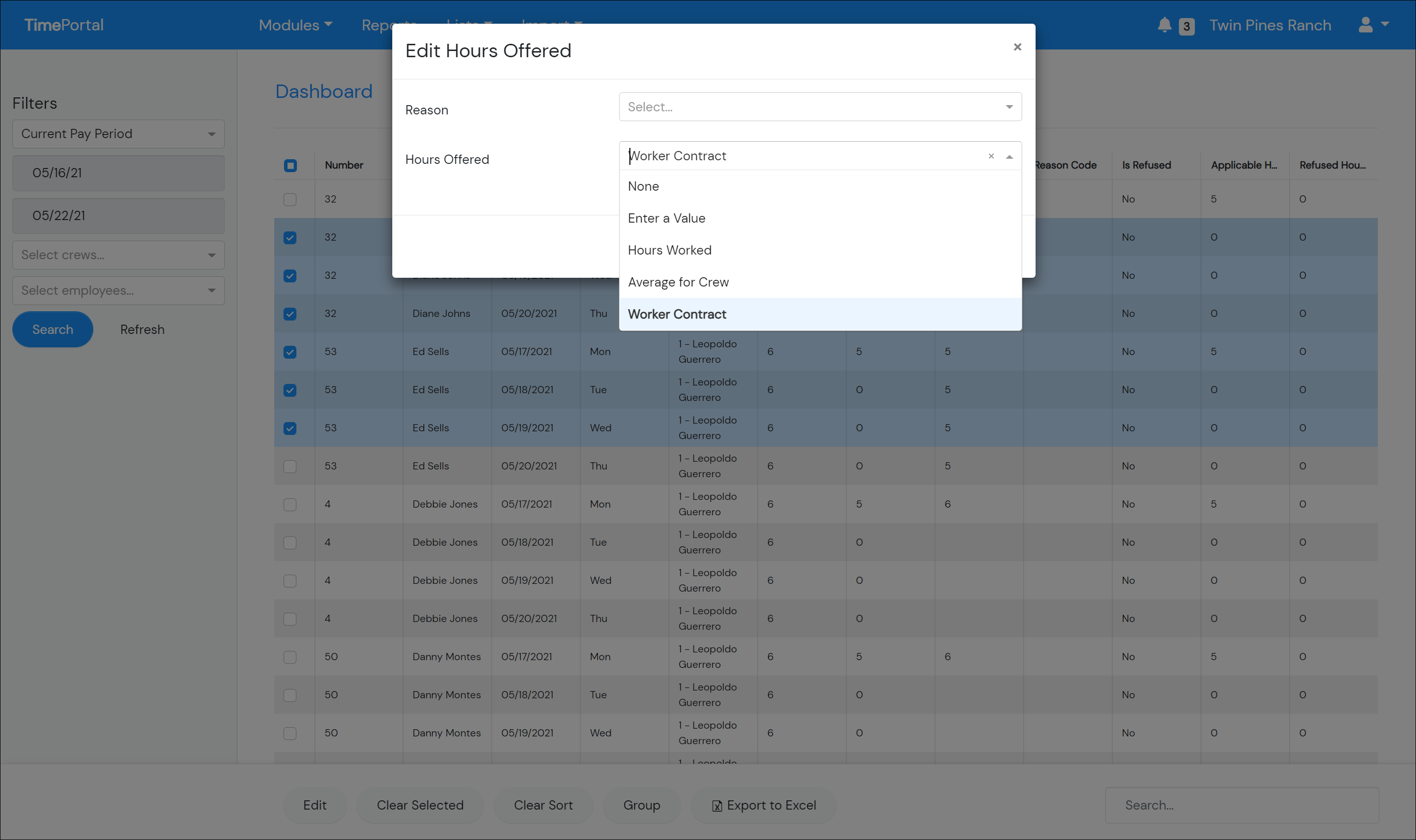 The Hours Offered list can now be sorted by multiple columns in order to easily identify employees whose hours worked require a reason code. The Clear Sort button can be used to reset sorting to a default order.
3. All Reports can now be queued
All reports can now be queued for background processing. This feature is useful for long running reports and was previously only available for a few of the reports..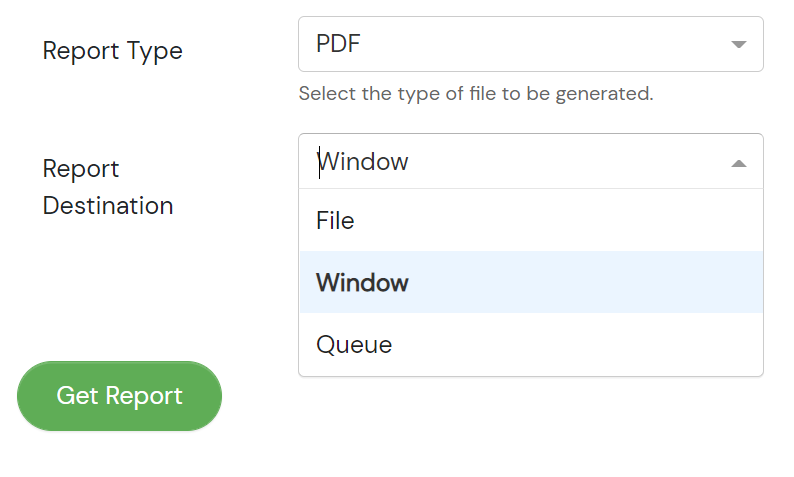 4. Created a new Payroll Provider for Tempworks
The Payroll Export Screen now includes an option for the TempWorks payroll system.

5. Created a new Payroll Provider template for Avionte
The Payroll Export Screen now includes an option for the Avionte payroll system.

6. Payroll Provider data can now be mapped to the Grower
Data exported to any payroll system can now include grower information. As illustrated below, the Grower option can be checked for any of the payroll-specific data elements.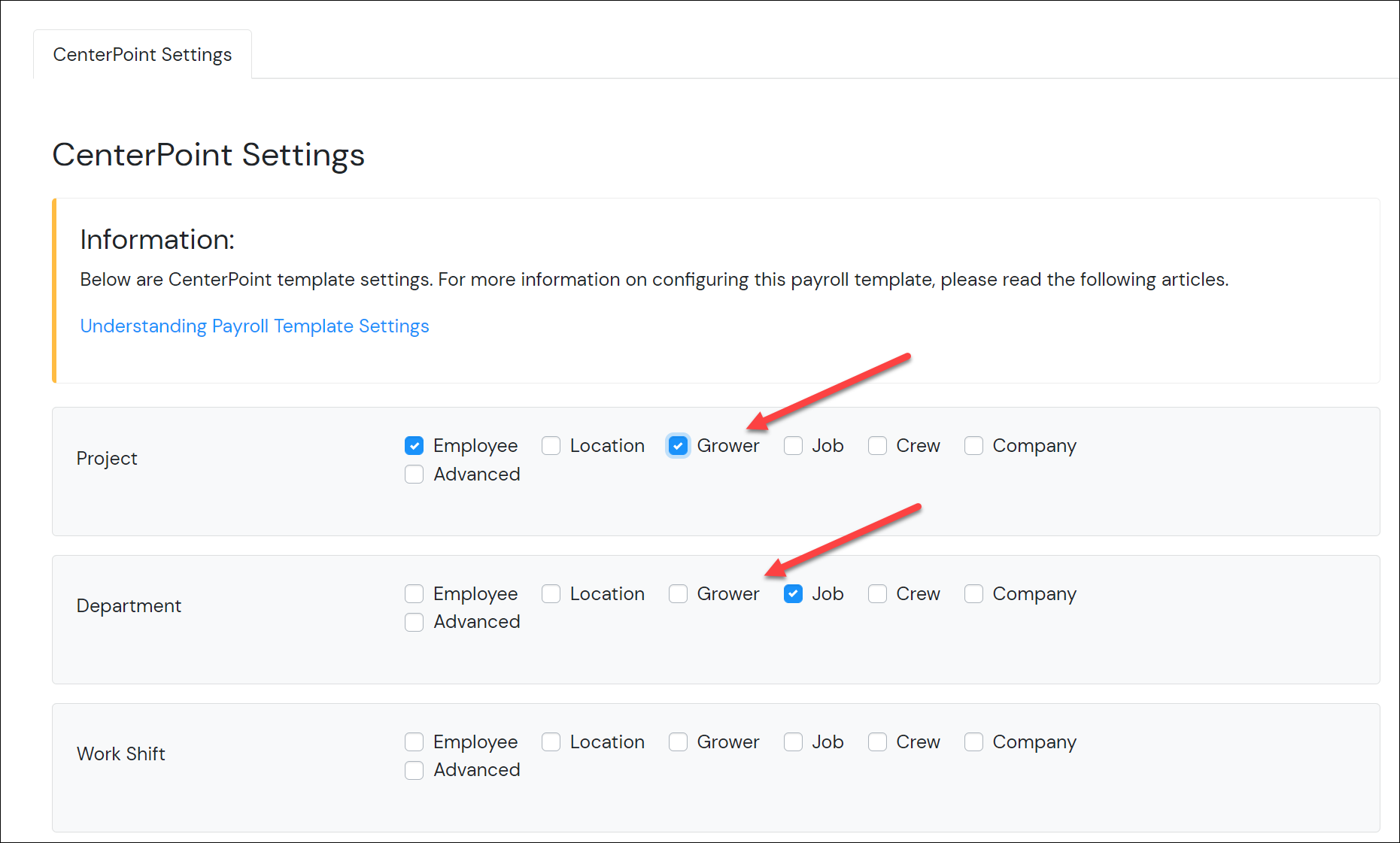 With the Grower option checked for the CenterPoint-specific "Project" field, notice that the CenterPoint tab, on the Grower Screen, now includes a field for entering the Project which is to be included with information that is exported to CenterPoint.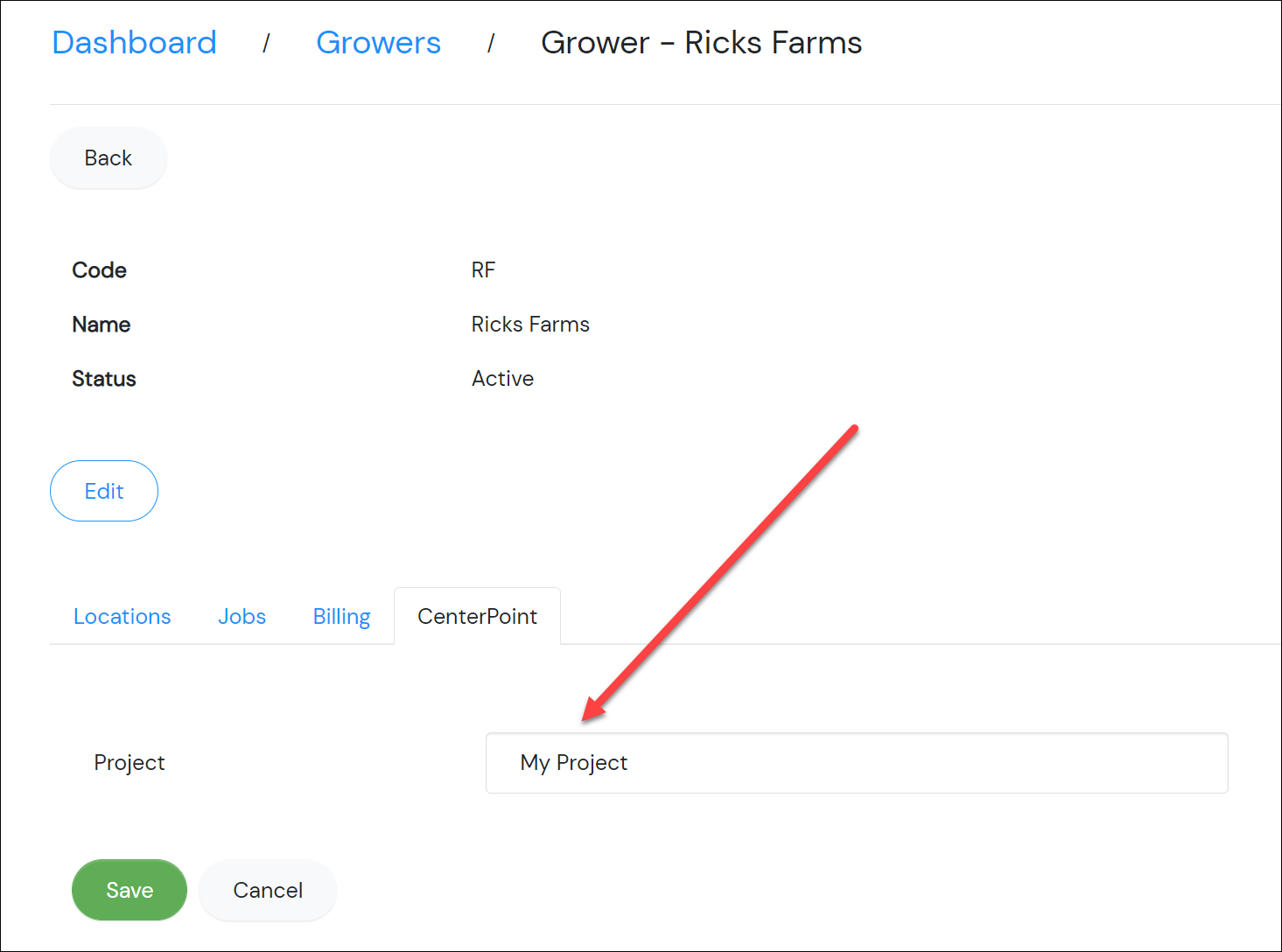 Fixes:
- Hours Offered records are no longer being generated for workers that have custom start and/or end dates.
- A location can now only be assigned to a single grower.
- Growers with large numbers of locations can now be successfully saved.
- Time sheet import now handles time zones properly
- Switched last name and first name for QuickBooks export