Users is an access controlled feature that must be explicitly enabled for each user who will be allowed to use the module.
1. Click on the dropdown next to your Name and Company located at the top right of your screen.
2. Select Users.
.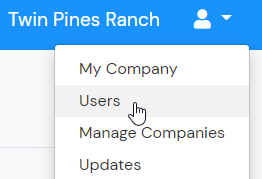 3. Click on the User Name who's password you want to change.
The User record will display.
4. Select the Edit button and enter the new password in the Password field then select Save.