One of the first things you should do when setting up Time Portal is configure your company settings. The company settings page contains options that allow you to customize the system to meet your needs. These settings control options available on the website and on the mobile software. Let's get started configuring your company settings.
First, lets navigate to the company settings page. Click on your name/company name in the upper right hand corner of the application. Then click on Company located in the drop down menu. (see image below)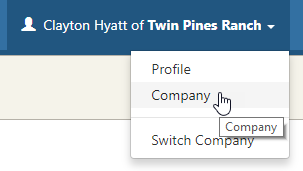 You are now on the company settings page. This page allows you to manage your company record, configure company wide settings, add additional users to your account, and also create additional companies.
General Settings
There are three main sections of settings for Time Portal, General, Verification's, and Mobile Policies. We will begin with the General settings section.
Name - This is the name of your Company. You can change it here anytime you like.
FEIN - The FEIN number of your company is used on certain reports for H-2A compliance.
Address - The address of your company is used on certain reports for H-2A compliance.
Hourly Rate - This is the standard hourly rate for you company and will be applied to all employees.Time Portal uses a

weighted hierarchy do determine when rates get applied.

Is Hourly Rate Minimum Wage - If marked yes, the system will use the company Hourly Rate to calculate minimum wage makeup if you are not using wage rules. If not, it will be calculated based on the hourly rate assigned to that employee.
Wage Rule - This is the default wage rule for the company. This wage rule will be automatically assigned to your time sheets if a Crew wage rule is not assigned.
Week Start Day - The Week Start Day is the day the pay week starts. This value is used to facilitate queries within the software and also helps control calendar options.
Pay Period Length - The length of time over which an employee's time is recorded and paid. This value is used to facilitate queries within the software and helps control calendar options.
Track Locations - Time Portal allows you to add locations and then apply those locations to an employee's time sheet record. When location tracking is turned on, the mobile software will display a location selection and it will be required on all clock ins.
Track Crop/Varieties - Turning crop/variety tracking on allows you to add crop/variety to your time data. This will force the mobile software to supply a crop/variety for every time record.
Track H-2A Workers - If you employ H-2A workers, then you should turn this setting ON. This setting will give you access to parts of Time Portal needed to track H-2A workers such as,

Worker Contracts, Reason Codes,

and H-2A reports.

Hours Offered Default Type - This is a utility setting that is used to facilitate data entry on the Hours Offered screen. This is the default Hours Offered value that will be applied to each of your H-2A workers. The available utilities are:

None - This is the default setting value. It will not provide any default value on the Hours Offered page.
Hours Worked - This value will match hours offered to hours worked by employee.
Average for Crew - This value will calculate hours offered based on average hours worked by crew by day.
Value - This value will use the value provided in the Hours Offered Default Value setting below.

Hours Offered Default Value - This value is only used if the the Hours Offered Default Type above is set to Value.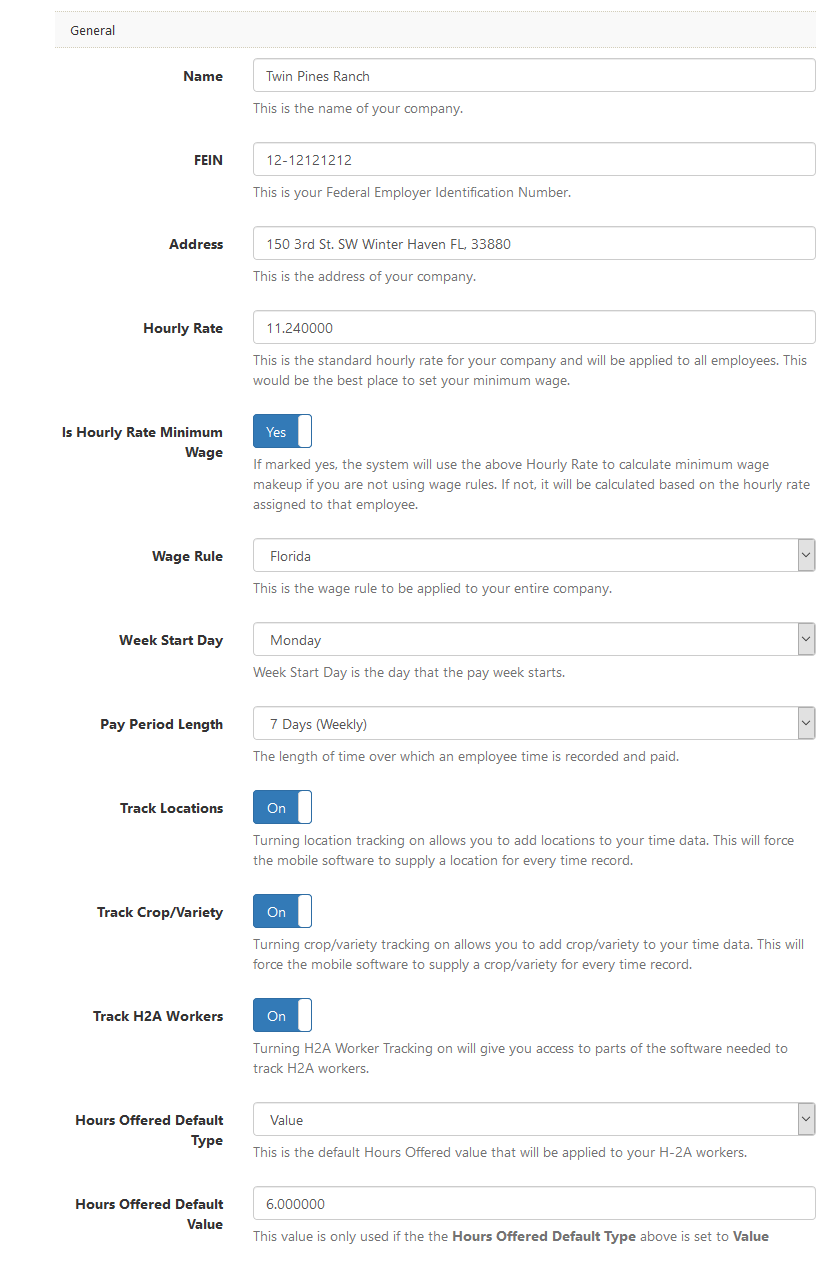 Verification Settings
The next section is the verification settings. These settings are used to turn ON/OFF the different verification methods that are available in Time Portal. A verification method is a process used to uniquely identify a worker. These methods can be used individually or in combination with each other.
Signature Types - This allows you to requires workers to provide a signature confirming their daily information. There are currently 3 different selections for this setting.
No Signatures - This option is the default setting which deactivates signatures on the mobile device.
On Every Out - This option will require a signature every time a worker clocks out.
End of Day - This option will require a signature at the end of the day. The end of the day is determined when the worker approves his data collected. At this time the worker will be prompted for a signature. This option is the most efficient method as the worker must only sign once a day.
Require Photos - This setting will prompt the worker to take a photo of himself each time he clocks in or out. This helps to identify that the worker is who he says he is.

Mobile Policies
The final section is the mobile policies. These settings control specific functions on your mobile devices. These are settings that should be company wide and not device specific.
Mobile Data Retention - This is the number of days that the mobile device will store time sheet data. The default value is 7 days. This value can be set between 1 and 365 days(s). This is useful to help manage device hard drive space. Time Portal will automatically clean up its database to conserve space once a time sheet reaches the retention number in age. Note that the software will only remove data that has been successfully uploaded to the website.
Capture GPS - This setting allows you to tell the mobile devices that you would like to capture GPS coordinates. GPS coordinates are collected on every Clock in, Clock out and piece collection.
Allow Hourly Rates on Time Sheets - This setting allows a time sheet to be created with an optional Hourly Rate. This can be helpful when Hourly Rates change and need to be controlled at a lower level.