The Time Portal Mobile app requires lookup data such as Crews, Employees, Jobs and Locations for display within its screens and must periodically retrieve this information for use while offline. Retrieval of lookup data only occurs during synchronization but uploading of employee attendance and piece count information is performed as it is entered if a network connection is available.
Automatic synchronization upon login
Immediately after logging in, the app will attempt to retrieve lookup data and then upload any locally stored time sheet information. If network access is not available at that time, the app will continue to work with the information it has available. For this reason, it is important to log into the mobile app at least one time while connected in order to have lookup data for use while offline.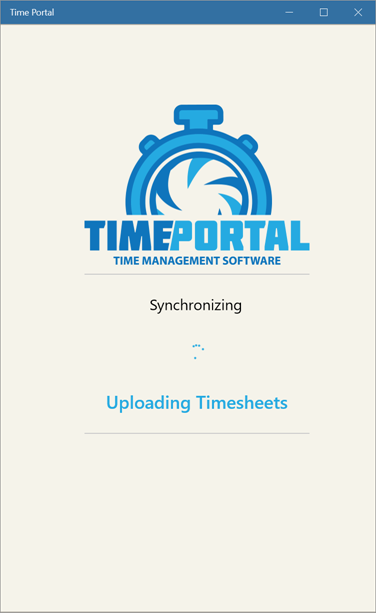 As illustrated, the synchronization process occurs right after successfully logging into the app.
Manually synchronizing
The Synchronize feature can be used to force retrieval of lookup data as well as the uploading of time sheet information that was collected while offline. To load the Synchronize screen, please tap the Sync option on the Home screen.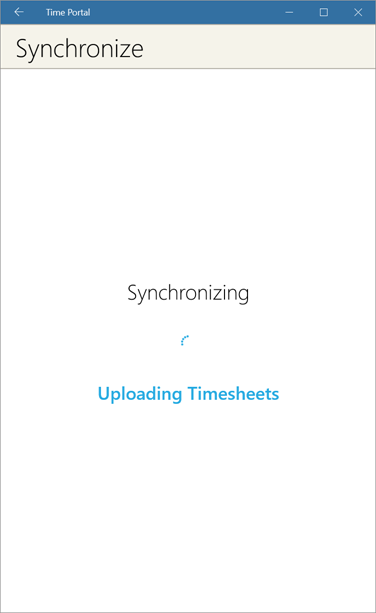 When planning to spend a day in the field with limited network connectivity, it's usually a good idea to load and log into the Time Portal Mobile app in a location with Internet access before heading out. This will ensure that the most current lookup information has been downloaded to the device. At the end of the day or when network connectivity is available, use the Synchronize feature to ensure that all collected data has been uploaded.