A crew is just a group of workers within your organization. Some companies refer to this as a team or department. Time Portal uses crews to help manage workers. Each crew will have its own time sheet for a given day. Note: at least one crew is required to be set up to create a time sheet in Time Portal.
Workers can be permanently transferred between crews using the website or can be temporarily transferred between crews on the mobile device.
To set up a crew in Time Portal, click the Lists drop-down menu at the top of the screen. Then click Crews.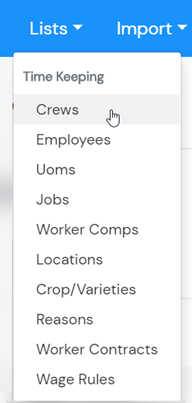 Next, click the green Create Crew button.

On the Create Crew page, fill in the fields, taking note that all fields with a red asterisk (*) must be filled in before saving. Once the fields have been completed, click Save.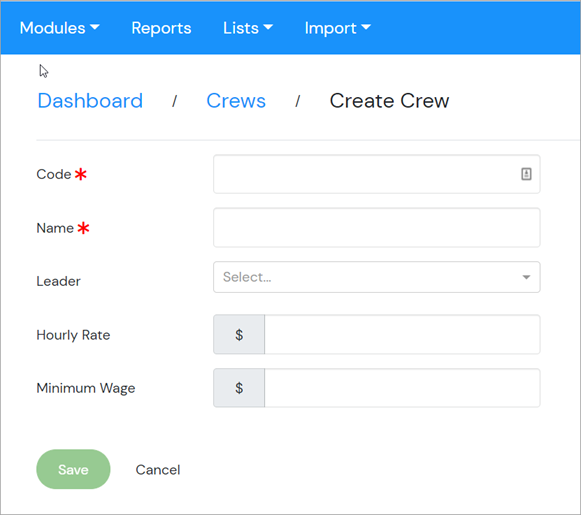 Code – This uniquely identifies the Crew in the system.
Name – This is a more user-friendly display of the record.
Leader – This is the employee that is the leader of this crew. Note: A crew leader is not required.
Hourly Rate – This is an optional hourly rate that can be applied specifically to this crew. This is useful if a crew is working in another state and the hourly rate needs to be different than other crews in your organization.
Every organization is different and some may not use crews at all. If you need help determining how to set up Time Portal to work with your particular organization please contact us and we can help you determine the best method.
You have now set up a crew in Time Portal. Happy Timekeeping!