To set up an employee in Time Portal, click the Lists drop-down at the top of the screen. Then click Employees.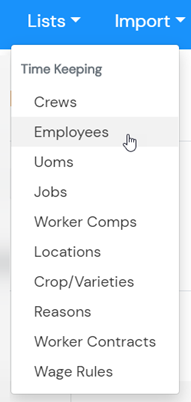 Next, click the green Create Employee button.

On the Create Employee page, fill in the fields, taking note that all fields with a red asterisk (*) must be filled in before saving. Once the fields have been completed, click Save.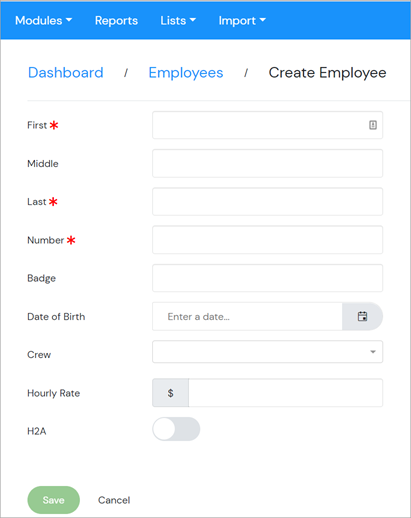 First Name – This is the first name of the employee.
Middle Name – This is the middle name of the employee.
Last Name – This is the last name of the employee.
Number – This is the employee's number and uniquely identifies the employee in the system. Time Portal also uses this number to map the proper time data to the appropriate employee in your payroll software. It is very important that these numbers match the numbers in your payroll system.
Badge - This is the employee's badge number, used to clock the employee in and out via a barcode reader or RFID scanner.
Date of Birth – This is the date of birth of the employee.
Crew – This is the crew that the worker is assigned to. Employees can also be added to crews on the Crew setup page and also through the Import spreadsheet.
Hourly Rate – This is an optional hourly rate that can be applied specifically to this employee. This is useful if an employee is paid a different rate than your base rate that is setup on the company page. Please see "Hourly rates and how they are applied" for more information.
Is H2A – This tells Time Portal whether or not this employee is an H2A worker. It is important to flag your workers appropriately as Time Portal treats domestic and H2A workers differently based on this flag.
You have now set up an employee in Time Portal. Happy Timekeeping!