Calculates the makeup pay required to bring the worker to minimum wage for piece pay jobs where the worker did not have enough pieces to earn minimum wage. Also helps to identify highly productive workers whose piece work earnings exceed minimum wage.

This report is often run at the end of each day to measure the performance of piece-work employees since Makeup Pay is shown as either a positive or negative value.
A positive value such as $6.88 indicates that the worker did not earn enough piece pay to meet minimum wage.


A negative value such as ($19.12) indicates that the worker earned more than enough piece pay to meet minimum wage. This value is informational only and is not included in any pay calculation.
The total shown at the bottom of the Makeup column provides the makeup pay that will be paid for the crew and is a sum of positive Makeup Pay values. This number is useful for gauging performance throughout the week and will only match other reports, such as the Payroll Summary Report, when run for an entire pay period.
Important
This report shows positive and negative values as "Minimum Wage – Piece Pay" for each day while other reports calculate daily makeup pay as a pro-rated percentage of the makeup pay for an entire pay period.
To print the Minimum Wage report, click the Reports drop-down menu at the top of the screen. Then click Minimum Wage Summary.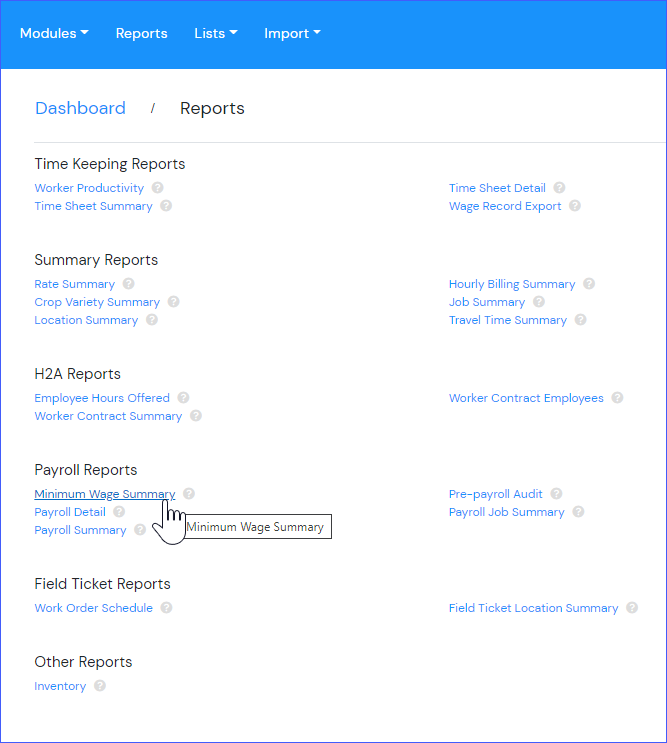 Like most of the reports, the Minimum Wage report uses multiple parameters to generate the report. It can be printed by date range using the Start and End Date (usually the pay period dates), Crew, Employees, Jobs, Location and Crop/Variety, Time Sheet Status (Uploaded, Approved, Complete), Report Type, (the report can be generated as a PDF or Excel Spreadsheet). If nothing is selected, the report will include all data (i.e. all crews, all employees, all jobs etc.). Make the desired selections and click Get Report.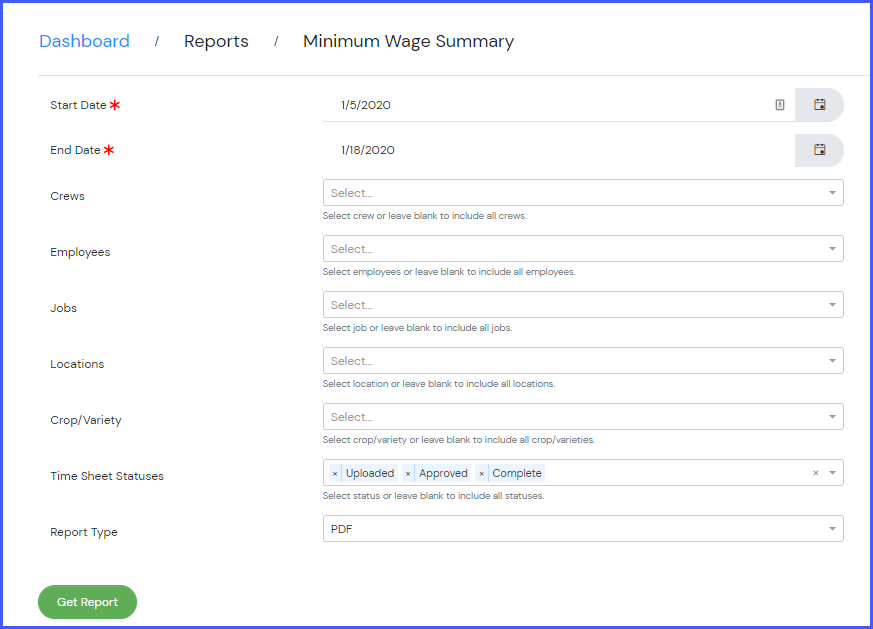 Once Get Report is selected the report will display in the desired format. The report prints one line for each employee selected. The Piece Rate paid (1) and the defined Hourly Rate (2) are displayed. The report prints for each employee the total number of Pieces (3) and the wage earned for those pieces. If the employee does not earn enough from the piece wage to make at least minimum wage, Time Portal calculates the Makeup pay (4) to bring the employee to the minimum hourly wage. (number of pieces X piece rate / number of hours worked = piece pay (minimum wage - piece pay = minimum wage makeup)). If the employee earned more than minimum wage, the amount is reflected in parentheses under the Makeup column.