When Kiosk Mode is enabled, Time Portal Mobile will behave like an unattended wall mounted time clock. Kiosk Mode is useful for clocking hourly workers into and out of a pre-defined job at a pre-defined location.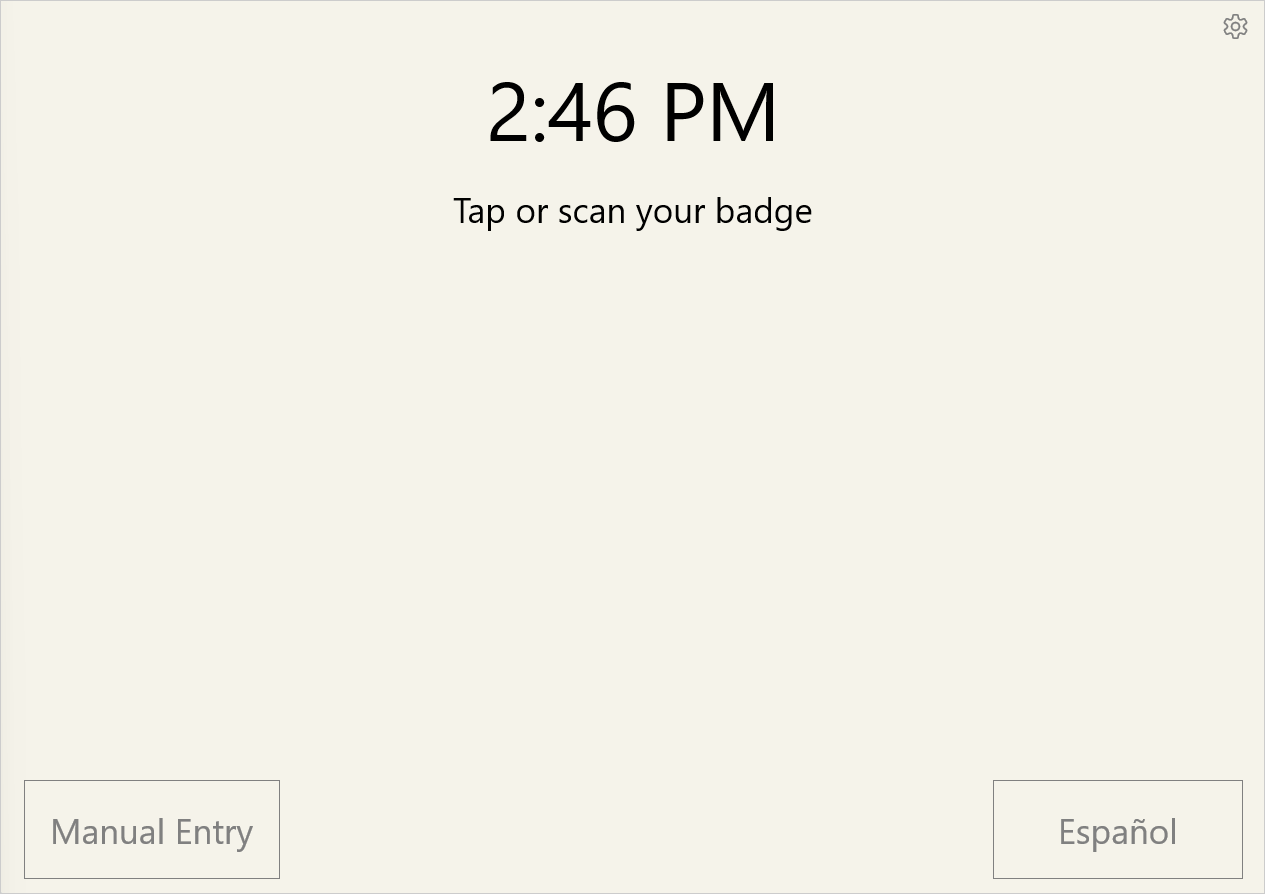 By attaching a device and RFID reader to the wall, one customer used Time Portal to create a time clock for their Packing House: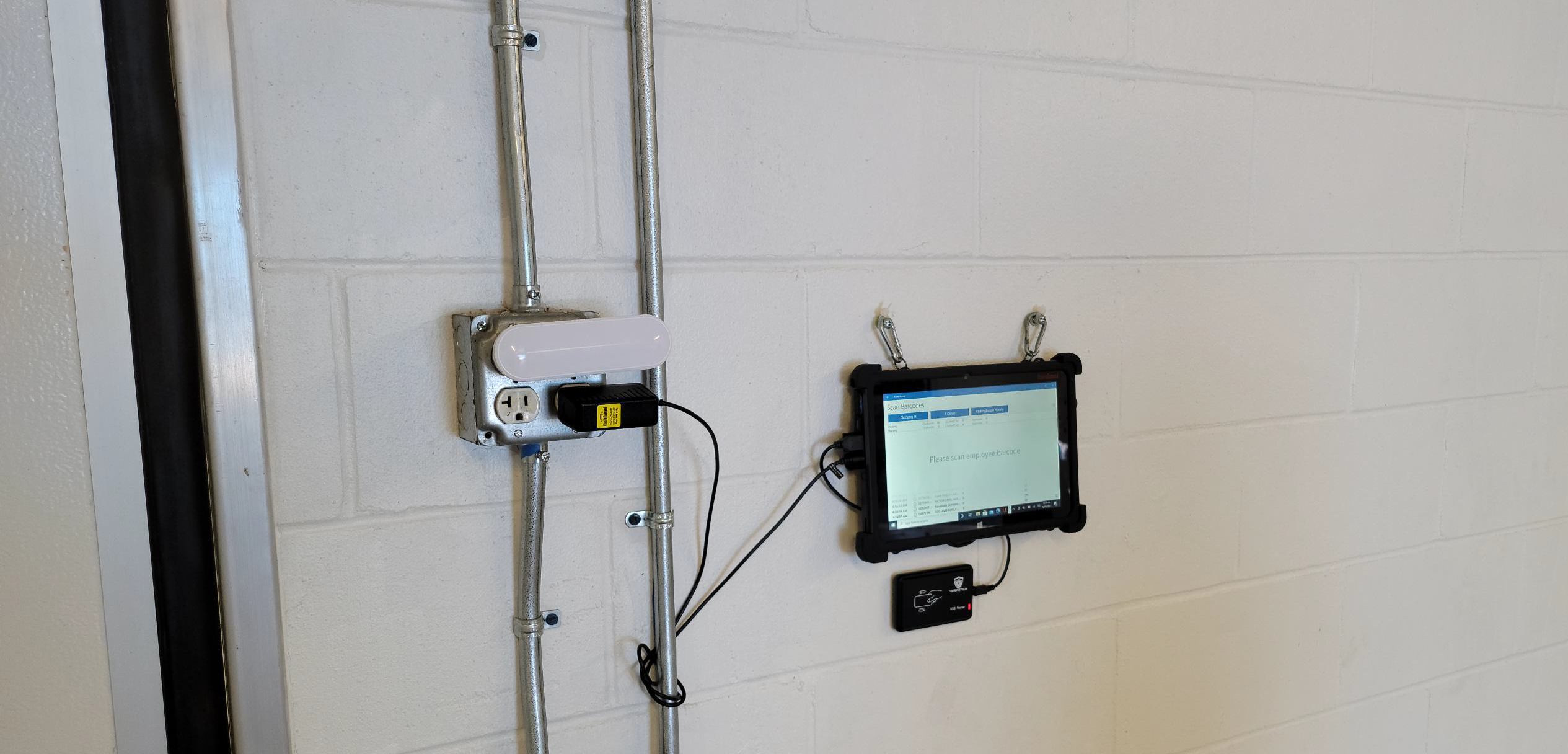 As employees swipe their badge or RFID FOB, Time Portal will determine whether they are clocking in or clocking out, then create or update a Time Sheet Record as appropriate.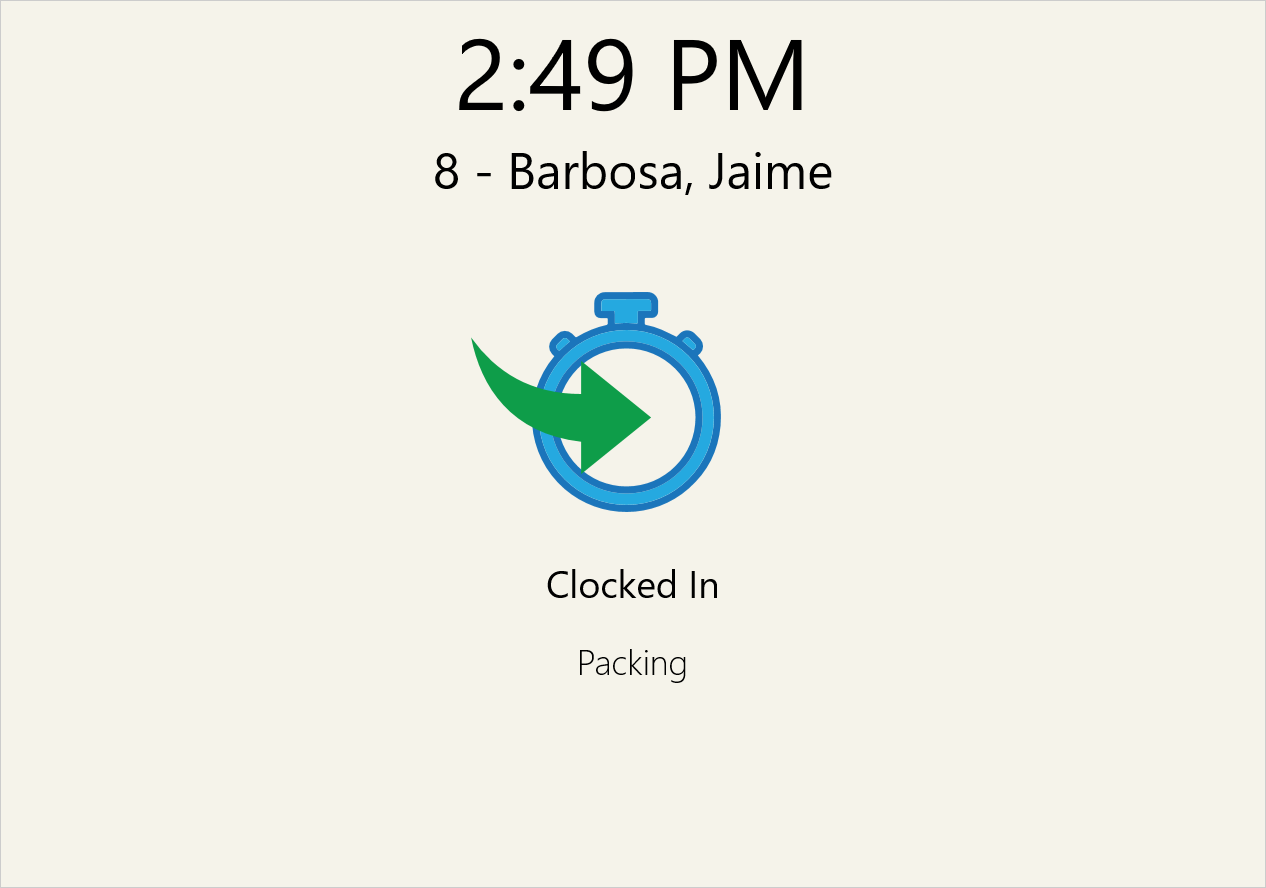 If an employee swipes his/her badge on the same day, Time Portal will assume the worker is clocking out and will show a screen that indicates they are clocked out.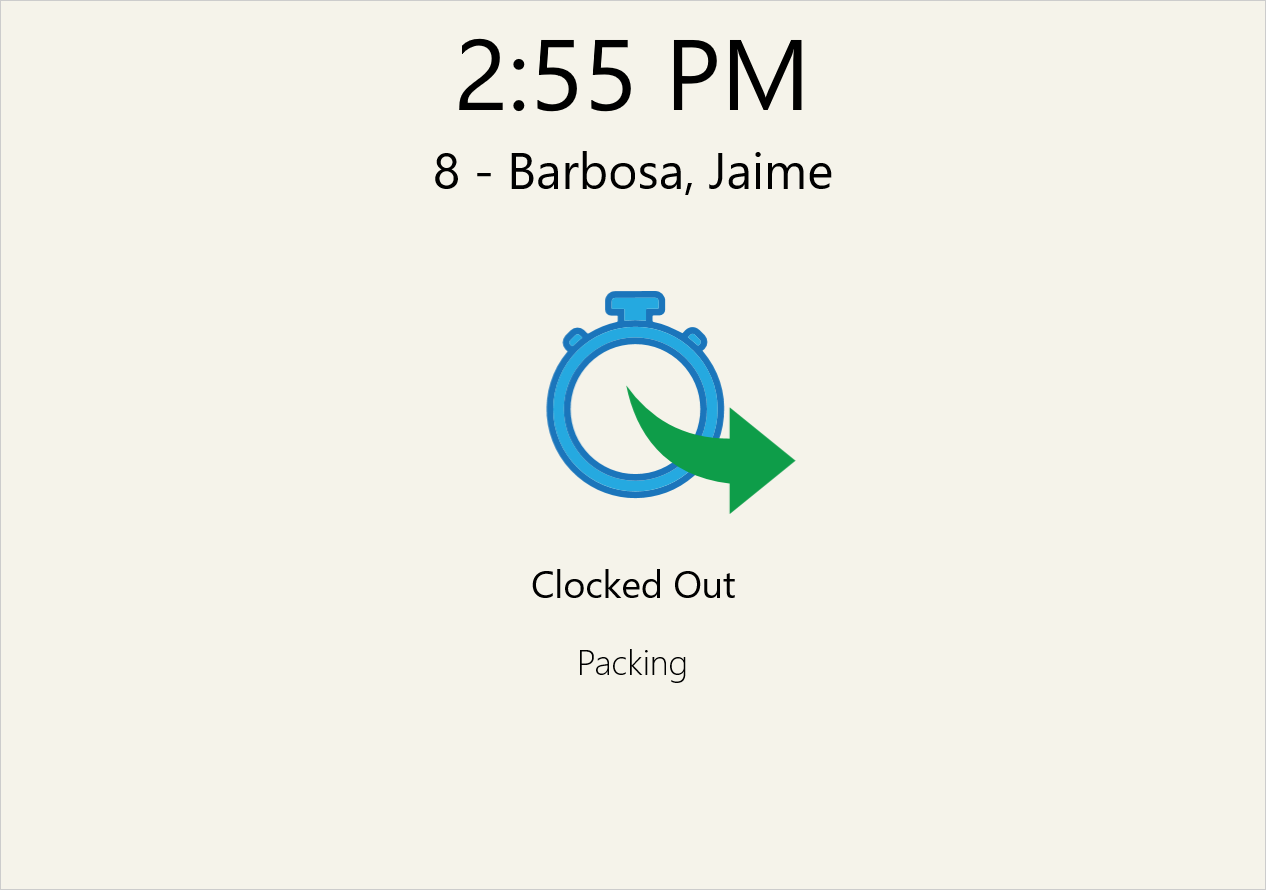 If the employee's last activity was a clock-in from the previous day, Time Portal cannot be sure if the employee worked an overnight shift or if he/she simply forgot to clock out. In this case, Time Portal will prompt the worker for clarification.
If the employee selects "Clock out", Time Portal will close out the previous day's Time Sheet Record with the current time. This would be the normal experience for night-shift workers.
On the other hand, if the employee selects "Clock in", Time Portal will let the employee know that he/she did not clock out the previous day and will wait until the Continue button is pressed before creating a new Time Sheet Record for the current day. The back office team can use the Time Portal web application to close out the previous day's Time Sheet Record.
Manual Entry
If an employee forgets their badge, or if a barcode scanner or RFID reader is not available, the Manual Entry button may be tapped to display a keypad for entering the employee's badge number or employee number as shown below. Tap the Scan button to resume scanning.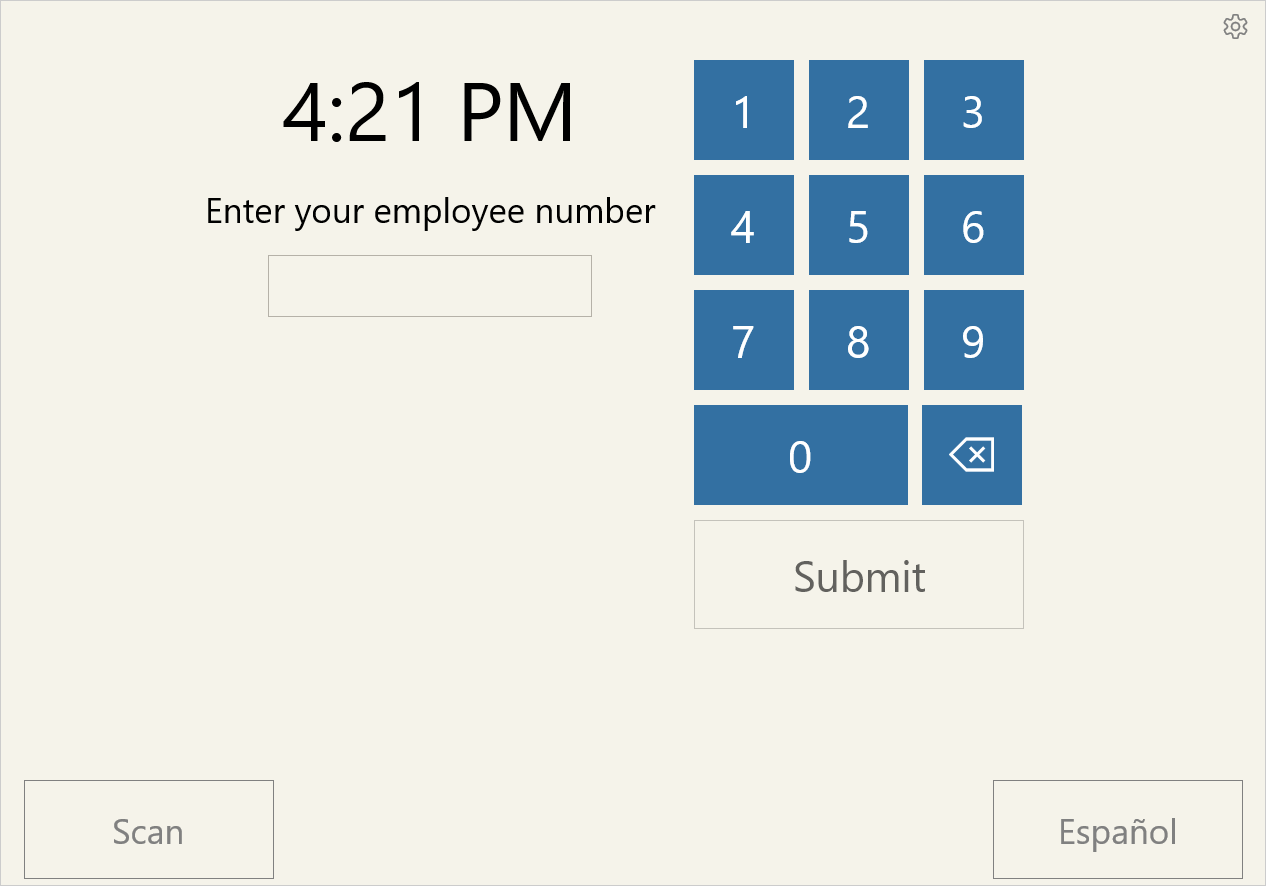 How to enable Kiosk Mode
On the main page of Time Portal Mobile, tap the "Settings" icon to load the Settings Page then scroll down to the Kiosk Settings as illustrated below. Just tap the "Enable Kiosk" switch to the Yes position to enable Kiosk Mode.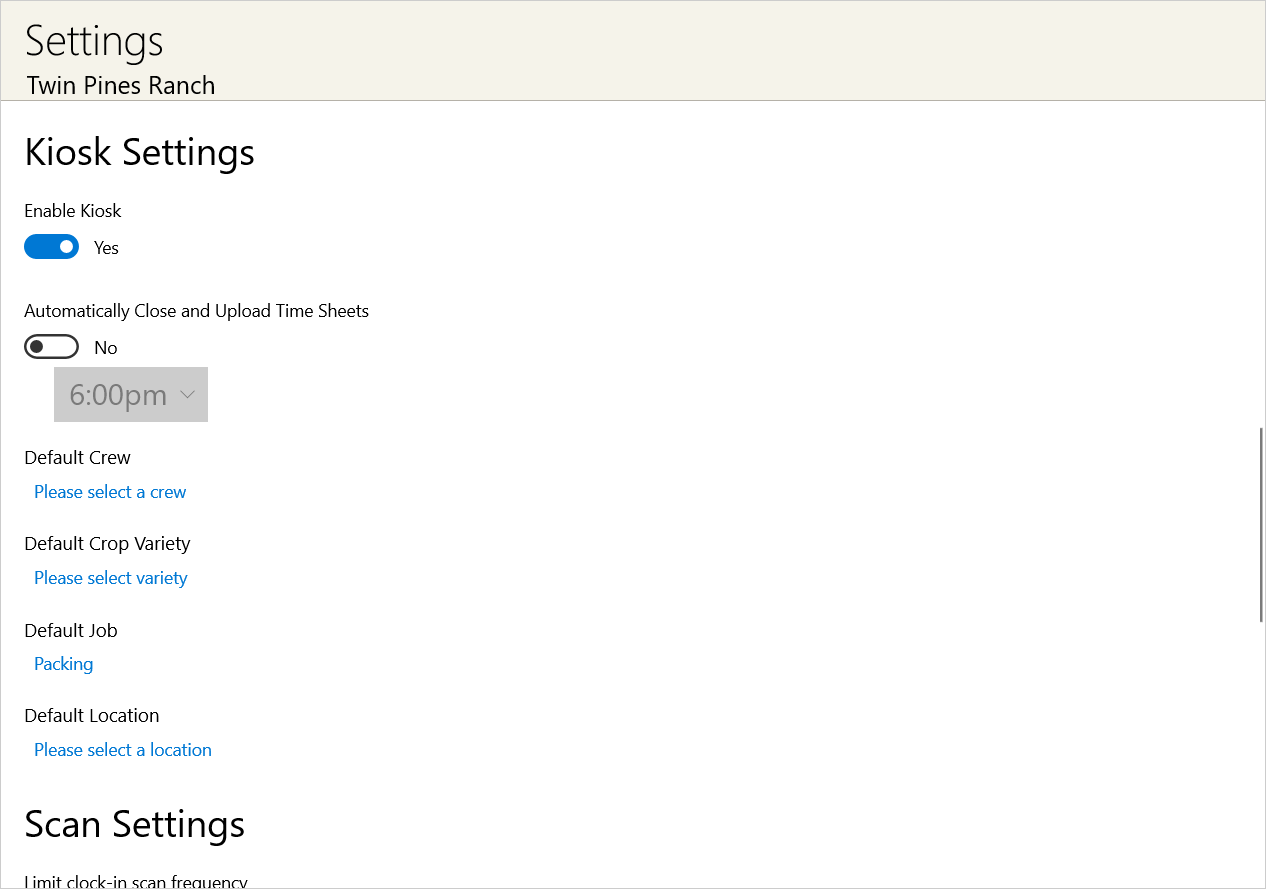 How to specify the Crew, Crop Variety, Job and Location for Kiosk activity
When workers clock into the Kiosk, Time Portal will create Time Sheet Records using their Crew, Crop/Variety, Job and Location, as they are defined in the Time Portal Web application. These are determined by checking the employee, location, crew and company settings according to a "ladder rule". If no values have been defined in the Web Application, the default Crew, Crop Variety, Job and Location specified in the Kiosk Settings will be used. It's OK if no values or default values are set, as the Time Sheet Records can be updated by the back office team if desired.
Automatically closing and uploading Time Sheets
For greatest flexibility, the option to Automatically Close and Upload Time Sheets should be set to "No". The Kiosk will create a new Time Sheet each day, for each Crew. The Time Portal Web application will receive updates from the Kiosk every 5-minutes and, when the back office team is confident that everyone has clocked out from a previous day's Time Sheet, the "Mark as Uploaded" button on the Time Sheet Detail Screen of the Web Application can be clicked to change the Time Sheet from "In Process" to "Uploaded" status.
When the option to Automatically Close and Upload Time Sheets is set to "Yes", a time between 1:00AM and 11:00PM must also be set to specify when Time Portal Kiosk should close and upload Time Sheets from the previous day. For example, if the system is configured to "auto close" at 11:00AM, then Time Sheets for Wednesday would be closed on Thursday morning at 11:00AM. An 11:00PM setting would delay closing Wednesday's Time Sheets until Thursday night at 11:00PM.
Since Time Portal requires all Time Sheet Records to be clocked out before uploading, any open Time Sheet Records will be clocked out with the current time stamp. Within the web application, a "flag icon" will help to identify the records that have this artificial clock-out time and that should be addressed before processing payroll.
It is important to set an auto-close time that is late enough to ensure that all overnight workers have had a chance to clock out. If a Time Sheet Record has already been auto closed when the employee scans their badge and selects "Clocking out", Time Portal will create a new Time Sheet record for that employee with a clock-in time equal to the clock out time that was stamped into the record which was auto closed.
Getting into the Kiosk
After enabling Kiosk Mode in the Settings Screen, the Kiosk option will be available as illustrated below.
Important: If you did not log in using a PIN, please tap "More", then use the "Change PIN" option to specify a PIN number which will be required to exit Kiosk Mode.
Tap the Kiosk option to place the system in Kiosk Mode. Once Time Portal has been placed into Kiosk Mode, it will stay in that mode, even if the application is restarted.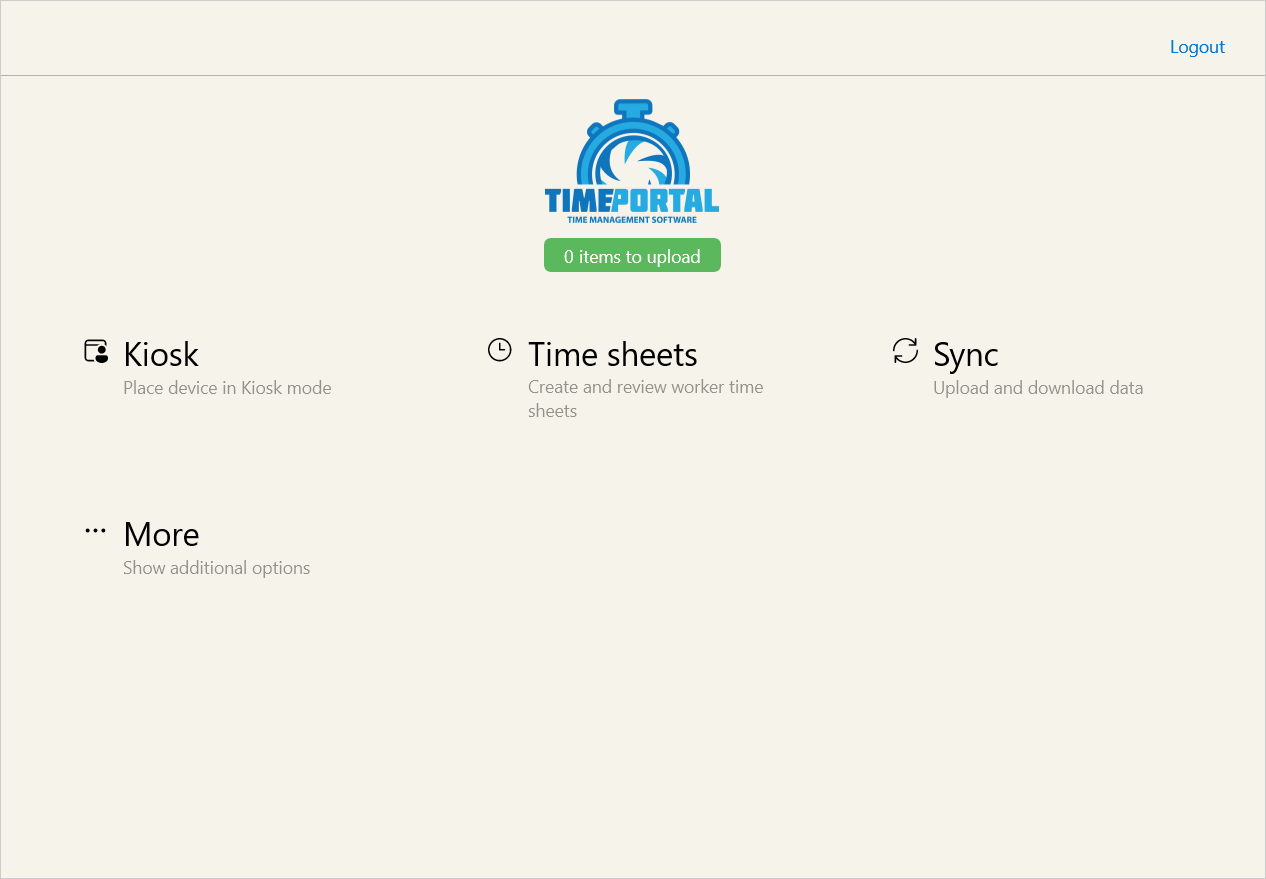 Exiting Kiosk Mode
Although Time Portal will upload information every 5-minutes, it may be necessary to exit Kiosk Mode to manually synchronize, review information collected into Time Sheets, or change settings. Just tap the Gear Icon as illustrated.

When prompted, tap in the PIN number which was used to log into Time Portal Mobile and/or set up with the Change PIN option as discussed above. Time Portal Mobile will display the main page once the PIN has been correctly entered,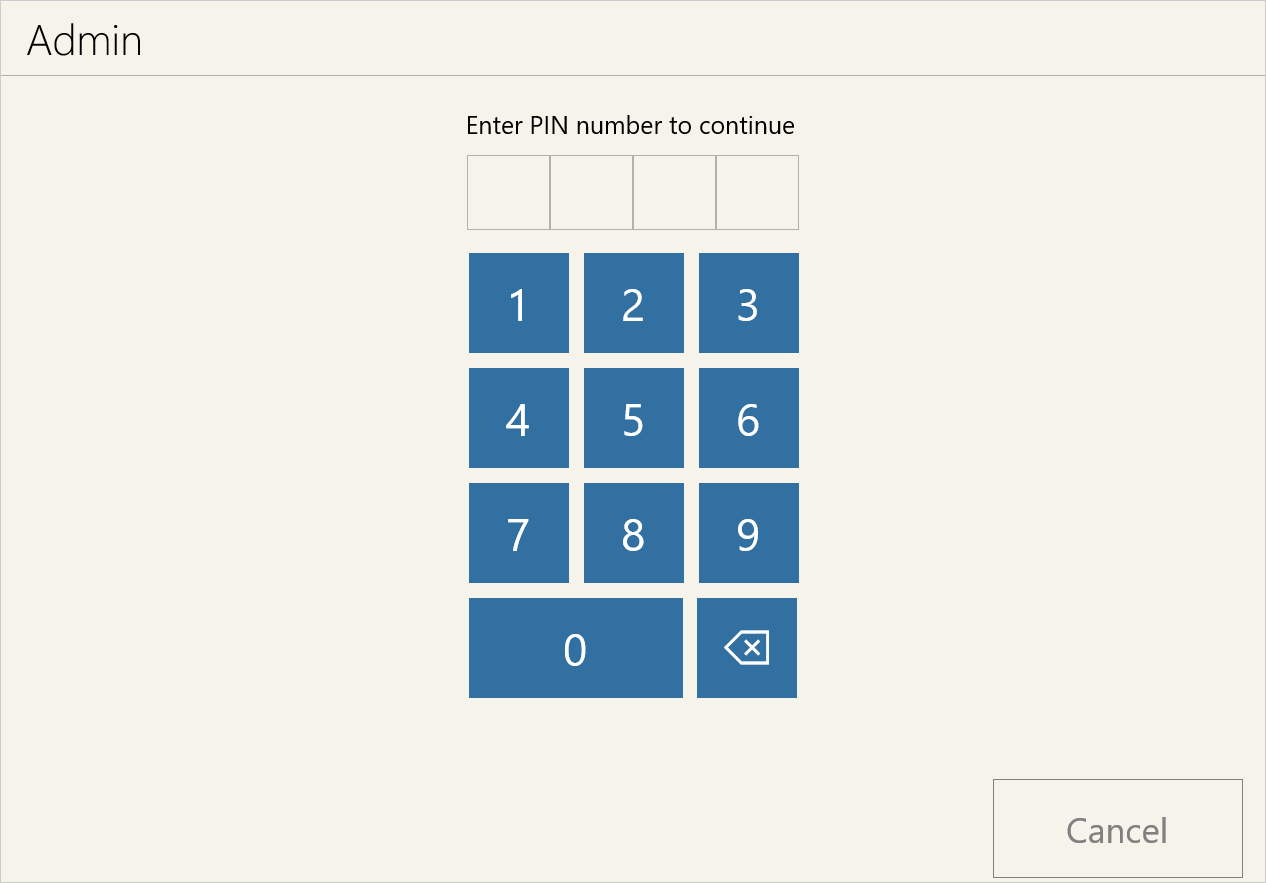 Behind the Scenes
As employees scan their badges, Time Portal will create and update Time Sheets and Time Sheet Records in the same way it does within the Time Sheets and Scan Barcodes features. Therefore, it is possible for a supervisor to exit Kiosk Mode and make any adjustments to Time Sheet records just as they would if not using Kiosk Mode.
While the application is in Kiosk Mode, the collected information will be uploaded to the Time Portal Web Application every 5-minutes, if a connection is available. Within the web application, the Time Sheet List will include the Time Sheet with an "In Process" status and, like any other Time Sheet, the details can be reviewed to determine who has clocked in or out.