When an employee's Mobile App Mode is set to Crew, the mobile app will include a Summary Report option that provides an interactive view of employee activity for a selected date.
To load the Summary Report, tap the Hamburger Menu at the top of the screen then tap Summary Report as illustrated.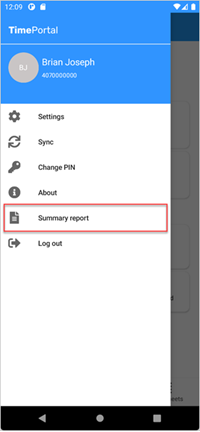 Note: The Summary Report can also be loaded from within the Time Sheet Screen for a Crew. When loaded from a Time Sheet, the Summary Report will be filtered to show only the activity related to that Time Sheet.
Once loaded, the Summary Report provides a list of employees along with information about the jobs they worked on the selected date.
Metrics that include total hours, number of employees and total pieces are displayed near the top of the page.


Tap the Employee label at the top of the screen to change the way the list is sorted. You may sort by Employee or by Job.


Tap the Date label at the top of the screen to view the summary for a different date.


Filter the list by entering any part of an employee's name into the Search field.
As illustrated below, the Time Sheet Records for each employee are listed below the employee's name. Each record includes the employee number and badge, job name, time in, time out, location and crop/variety as well as the number of hours worked and piece count/rate, if applicable.
Tap the Employee Name to review the Employee Time Sheet details


Tap the Piece(s) label to change the piece count (if the Time Sheet has not been uploaded)